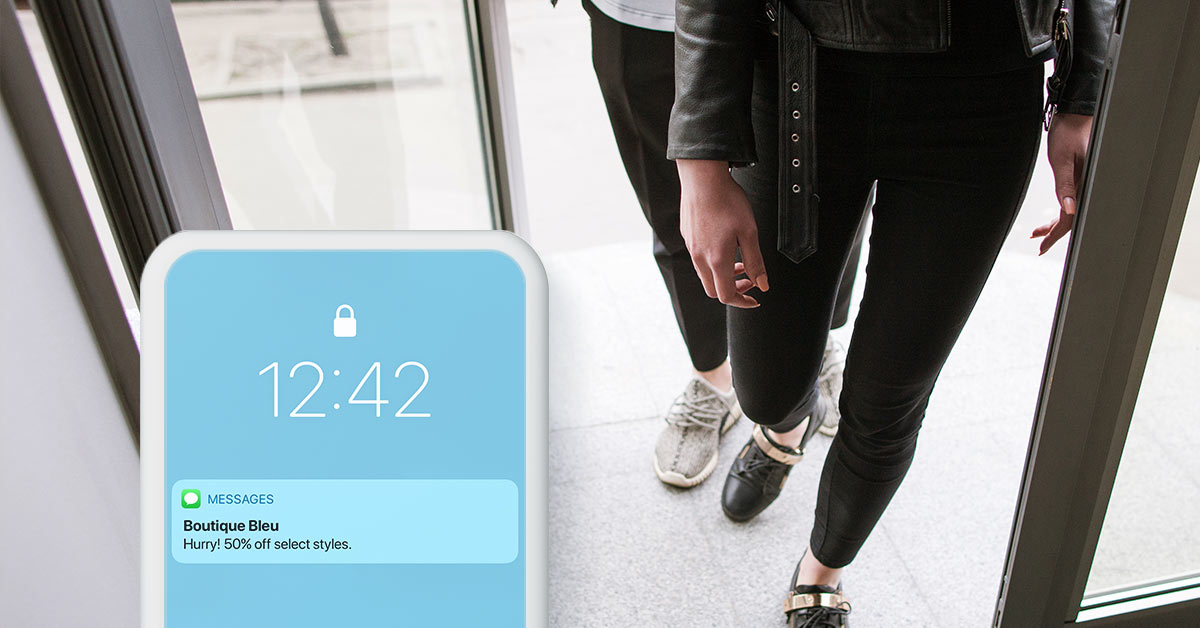 When people think of retail loyalty programs, they often think of old stamp cards lying somewhere at the bottom of their wallet. Thankfully, that's in the past (for the most part).
The days of frustrating your customers with cards they have to remember to carry are in the past—you can offer customers a modern, easy to use loyalty program that helps you refine your marketing efforts.
Loyalty programs have gone from being inefficient and difficult to track, to becoming useful marketing tools that help retail merchants translate their point of sale's customer data into personalized, interactive campaigns that drive more repeat purchases and brand fidelity.
To launch a successful retail loyalty program, you need to have a clear understanding of what you want to achieve and how your loyalty program fits into your customer journey.
Three tips for loyalty program best practices
Run your store smarter in 2021
Building customer loyalty goes beyond your loyalty program. Stay ahead of trends and impress shoppers with future-proof digital strategies.
1. Make it easy to use
If you want people to see your loyalty program in a positive light, it has to be as painless as possible to use.
If customers need to have a card on them to gain and use loyalty points, they might start to see it as too much of a hassle to bother with. If your loyalty program isn't omnichannel, customers will go to someone who does let them gain points online and in-store. And if checking out or signing up as a loyalty program member means extra time spent at the register, you'll lose their attention.
Ditch physical loyalty program cards
No one needs another card to carry around. Tying a customer's loyalty program membership to their customer profile in your POS benefits both of you.
For the customer, it means automatically earning points on sales with their customer profile attached. No need to bring out a card or add an extra step during the checkout process.
For you, it means you can start gathering important purchase history data you can use to personalize your marketing campaigns—more on that later.
Follow customers from online to in-store
Omnichannel. It's more important than ever.
Your customers should be earning points on both their online and in-store purchases. Your marketing campaigns should recognize what channels a loyalty program member uses. Your curbside pickup orders should reward the same points as any other purchase your customer makes.
Make enrollment and redeeming points at checkout easy
If getting signed up for your retail loyalty program is a hassle, you'll turn customers off before they've even redeemed their first reward.
And while using an iPad POS system means you have far more flexibility in your store, if you have to swap between your POS app and your loyalty program manager to redeem points at checkout, you'll make using any points customers have accumulated too time-consuming to bother with.
Using a loyalty program integrated with your iPad POS app—like Lightspeed Loyalty is—solves these problems. You still get all the benefits of a portable, cloud-based POS while being able to quickly manage and use your loyalty program as customers pay. The checkout screen will show you the rewards available to customers and how many points a customer has earned and redeemed at the completion of a sale, so you don't waste any time. You'll also be able to easily enroll customers a number of ways—through their phone, email address or customer profile—so getting started with your loyalty program isn't a drag.
2. Use email and SMS messages
75% of customers come back to a retailer's store or website after receiving an offer. The real challenge, however, is getting customers to actually see these offers.

The most successful retail loyalty programs use both emails and SMS messages to send offers to customers, which maximizes the probability that the offer is seen. With your messages more likely to be seen, you can feel more confident the offer results in a sale.

While it's a necessary element to any loyalty campaign, you shouldn't rely exclusively on emails to send relevant offers to customers. Email open rates for the retail industry average 10.81%, and clickthrough rates—the rate at which customers follow a link in your email—average 8.19%. It's important to acknowledge that while these rates may seem low, email marketing still has a high ROI for many businesses… but by combining email and SMS messaging, you can reach the maximum number of customers and really be sure your campaigns get out there.

A survey of 2,000 American consumers showed that 91% of respondents were interested in signing up for text messages from brands. Studies show that people check their phones upwards of 80 times per day. Additionally, SMS messages have an 82% open rate. The probability of a customer seeing your offer when it's sent by SMS message is substantially higher than with emails.
Best practices for using emails and SMS messages effectively
Plan your objectives
Before you launch any campaign, it's important to work backwards. Think about the actions you want people who receive the email or SMS message to take. Do you want to promote a specific offer, generate awareness for a new product, get newsletter signups, generate sales for your new collection?

Clearly define your objectives so that you can accurately measure your campaign's performance once it's launched. Try making a list of the top five reasons you want to connect with customers and building out your strategy for those objectives. Once you have those five plans defined, you'll have a blueprint for how to expand your campaigns as needed.
Get permission
The anti-spam laws around email marketing vary by country.

Canada's Anti-Spam Laws (CASL) state that consumers need to explicitly opt-in and consent to receiving promotional emails before you can send them anything.

In the U.S., the Controlling the Assault of Non-Solicited Pornography And Marketing Act (CAN-SPAM) requires consumers to opt-out of receiving emails. If they don't opt-out, you can send them marketing emails.

Not adhering to these laws can have serious consequences. Click the links below to learn more about email marketing and anti-spam laws in your country.

Don't spam
Even once they opt-in (or don't opt-out), it's never a good idea to bombard your customers with emails and SMS messages. Spamming customers actually has a negative effect that can result in them unsubscribing from your mailing list or uninstalling your loyalty app.

SMS messages for your retail loyalty campaigns should be sent at maximum once a week, for example.
Be brief
Think about the last time you opened a long email. Did you read the whole thing? Probably not.
People are more than likely going to scan the email for any relevant information and decide whether or not to take action afterward.

It's important to keep your email and SMS copy as brief as possible and focus your messaging on what the benefit is for the recipient.
We really like this example from Reformation. The text is minimal, but it tells you everything you need to know.
Reformation's dresses look good enough for a baby shower and are easy to put on. The images do the rest of the talking.
A/B test
A/B testing (also referred to as split testing) is when you test two versions of the same email or SMS message to see which is more effective. Loyalty program best practices suggest you do rigorous testing to improve your campaigns.
The goal is to figure out what drives the best results and compels the most conversions. You can test virtually anything in an email:
Subject lines

Calls to action (CTA)

Graphics (colors, pictures, etc)

Content
With Lightspeed, you can easily compare the engagement of your previously sent emails and learn what type of emails work best with your customers. Just select an email template (or create your own) and try different combinations of image, design or copy.

Once you've sent your emails, you can analyze each of their open rates, clickthrough and engagement rate.
Testing these elements during the early stages of your loyalty campaign will help you figure out what type of content excites your customers and makes them take action.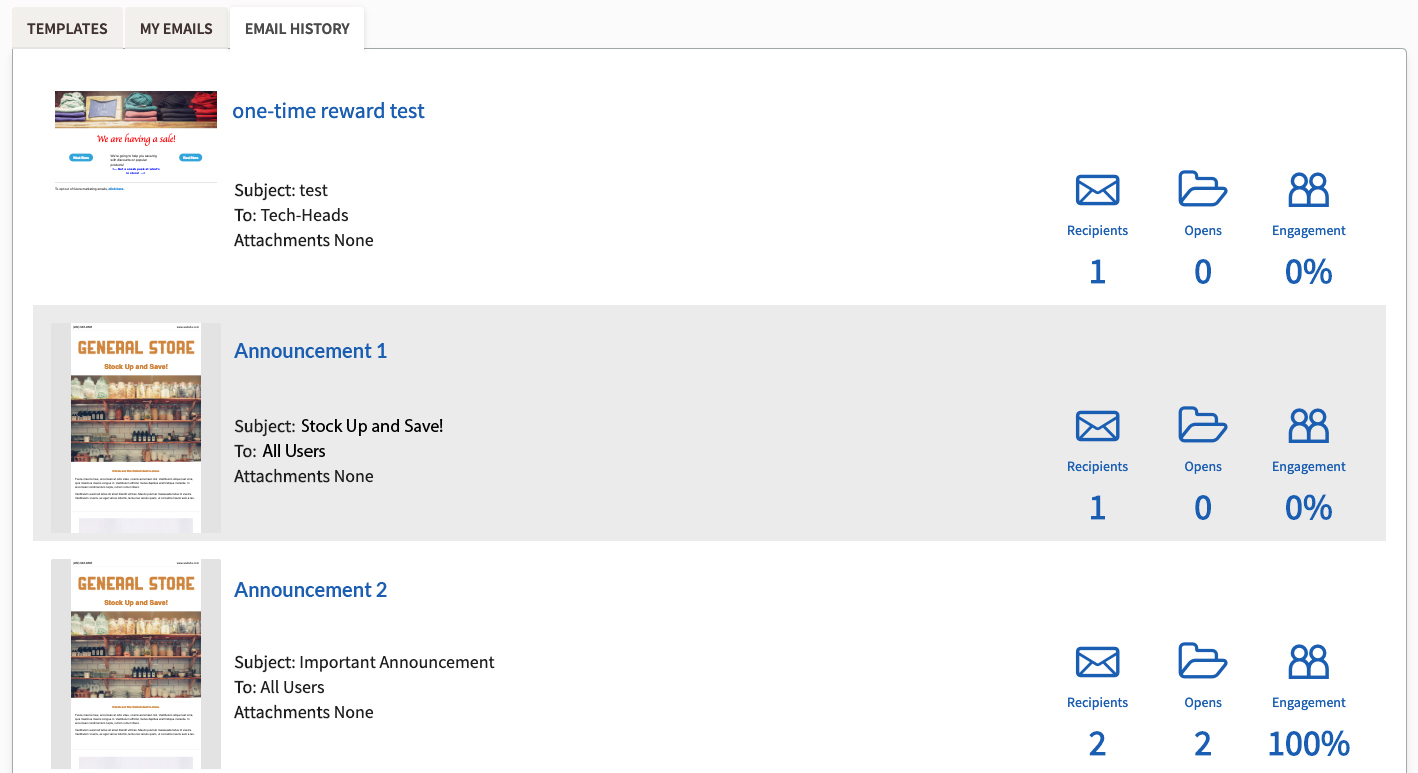 In the example above, we tested two different Announcement email subject lines (Stock Up and Save!, and Important Announcement). While the sample size is small, we can see that Announcement 2's subject line has, so far, produced stronger open rates.
Pick your touchpoints carefully
Above all, you want to be relevant. Bombarding customers with emails and SMS messages of repeat content they don't care about will drive them away and goes against loyalty program best practices. Not every customer needs to be informed about every sale, new item and store update in both their email inbox and their text messages. The point isn't to wear customers down; it's to stay in contact so you're top-of-mind without annoying them.
Let's say, for example, we're a beauty supply retailer developing our loyalty campaigns. We want to send customers a monthly newsletter, let them know about sales and keep them informed of seasonal product drops That means we have three objectives we need to create either an email or an SMS message for.
The newsletter should be an email campaign. A good newsletter will be longer than you can communicate over text message, and should contain enticing images (and even video—as a beauty supply retailer, we might want to include videos showing products in use and makeup tutorials). We'll need to be sure we're avoiding common spam words and enticing people to open by being honest about the email's contents.
Sales notifications might work best as SMS messages, because you can catch customers as they're checking their phone sooner than you might be able to catch them over email. These should be short, did-you-know messages that let your loyalty program members know they can get 15% off, or a free product with purchase or whatever the details of our sale are. We'll want to keep these messages sparse—don't bombard customers with text messages! Make it easy to opt out so customers know you respect their time, and sweeten the deal with a promo code they get for being a loyalty program member.
Seasonal product releases could be communicated either through email or SMS messages. We could implement A/B testing to see which is more effective, but we shouldn't send both to the same customer.
If we decide to let customers know about seasonal product drops over SMS, our text message should follow the same principles as the sales notifications: keep them brief and make it easy to opt out so customers feel in control of the communication. Be conversational, let them know new products are in stock and consider linking them to your eCommerce store. You're more likely to catch customers right away with this method, but you can't entice them with product images.
If we decide to use email messaging, we can include imagery, product descriptions and videos of the new products in use. This message should be easily scannable, and should avoid talking about deals on the new products in the subject line—that can get your email flagged by spam filters! With email, we might risk not reaching our loyalty program members right away (they might check their email once a day, rather than throughout the day, as they do their texts), but we can more clearly illustrate what it is we have to offer them.
By using A/B testing for the right touchpoint for this communication, we can get to know our retail loyalty program members and adapt our strategy for what they seem to respond to.
3. Leverage your customer data
It doesn't matter how well-crafted your emails and SMS texts are if they're not relevant to the customer. Offering special deals, promotions, discounts and gifts is part of a loyalty campaign, but so too is building a personalized connection with your customers.
Purely transactional incentives with no personalized value are dime-a-dozen; they don't build a relationship with your customer, which goes against loyalty program best practices. A well-crafted retail loyalty program steps out of the discounts and price reductions comfort zone and brings a more personalized touch to the table.
To achieve that, start by using your customer data (like their purchase history) to know what products and services they like and sending them rewards based on those preferences.
Your point of sale (POS) can help you do just that.
With Lightspeed, you can create customer groups based on shared demographic information, purchase history, location, method of payment and special days (like birthdays).
In the example below, we created customer groups for deal-hunters, friends and family, seniors, students and tech-heads.

Once you have your groups set up and ready, you can just choose an email template, add your text, photos, subject line and select the groups you want to send the email to.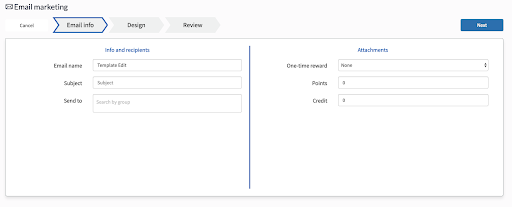 Next, send the emails and analyze your results afterward to see how you can improve your next emails.
Tip: With Lightspeed, you can also send SMS messages to your customer groups.
Segmenting your customers into groups helps you send the right message, to the right customer, at the right time. That helps your business show customers that you understand what they want and that you've got what they need.
Using your customer data to inform your retail loyalty program promotions is a huge contributor to their success: Higher-converting promotional campaigns and a higher lifetime customer value (LTV).
Personalize your promotions
To build long-lasting relationships with customers (and increase their lifetime value), you have to consistently show them that your business has what they need.
Rather than offering generic rewards, use your customer data and offer personalized promotions that matter to the customer.
If a customer typically purchases new items at full-price, consider adding them to a customer group that will be targeted with emails promoting products that are new in-store. Those customers probably value being the first to buy a new item rather than older items that are being liquidated.
There are plenty of ways that you can personalize your retail loyalty program's promotions:
Birthday offers

Advanced previews of new collections

Discount rates on items based on past purchase preferences

Giveaways

Special event invitations
Providing consistent branding across all channels helps make the shopping experience more memorable.
Launch a referral program
By focusing on your existing customers first, you can even attract new ones.
Referral programs are a great way to incentivize your existing customers to recommend your business to their friends and family. Customers are more likely to trust referrals that come from people they know—word of mouth marketing is advertising you don't need to pay for directly.
Consider incentivizing your existing customers to share special promo codes with their friends by offering them a kickback, giveaway or promotion. For example, for every customer they refer, they get a discount towards their next purchase.
Offering loyal customers the chance to refer friends or family and win points or rewards is a great way to make your customers happy and get new potential customers in exchange. Everyone wins!
Grow your business with a loyalty program
Investing in your customers is not just great for your brand image, but also your bottom line. Your existing customers can be worth up to ten times more than their original purchase.
And that's where a loyalty program that's synced with your retail point of sale really shines.
When both work seamlessly with one another, you can fully leverage your customer data, maximize how existing customers spend and incentivize them to recommend your business to their friends and family.
That adds up to increased sales from both existing and new customers and stronger customer relationships. Loyalty programs are customer-centric marketing, done right.
With Lightspeed Loyalty, you get an easy-to-use integrated loyalty tool that allows your customers to collect points and allows you to reach out to customers through email and SMS. If you're interested in getting set up with Loyalty, let's chat.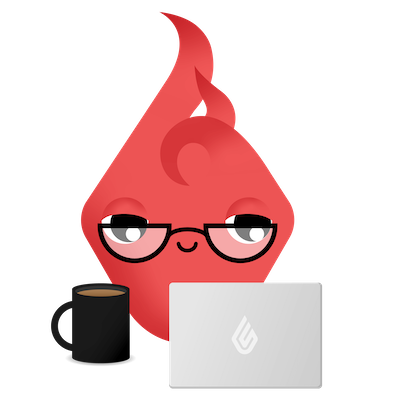 News you care about. Tips you can use.
Everything your business needs to grow, delivered straight to your inbox.