In times of sweeping change in consumer habits and expectations, the need for advanced and reliable tech solutions is greater than ever. At Lightspeed, we aim to equip hospitality businesses with the tools to adapt and thrive.

That's why we're proud to shout about Lightspeed Restaurant (K Series)—a flexible, all-in-one ePOS system for restaurants.

But Lightspeed Restaurant (K Series) is more than just an ePOS till system, it's a versatile and advanced commerce platform. From one place, you can handle everything from delivery and takeaway to menu engineering and sales reports.

In this post, we'll show you why Lightspeed Restaurant (K Series) is the restaurant ePOS software to help your hospitality business thrive in the new era of hospitality.


Equip your business for short and long-term success
Lightspeed Restaurant ePOS provides your restaurant with tools for longevity. Download our guide and learn how to build a more resilient business.
Master table service with a mobile point of sale
Among Lightspeed Restaurant (K Series) many features as a commerce platform is its functionality as a mobile point of sale. That means staff can move freely between tables, sending orders to the kitchen and processing payments on the spot. A mobile point of sale with that kind of mobility can do wonders for your table service.
When staff have to make fewer trips across the dining room floor, they gain more time and peace of mind to deliver the kind of customer service that sets your restaurant apart.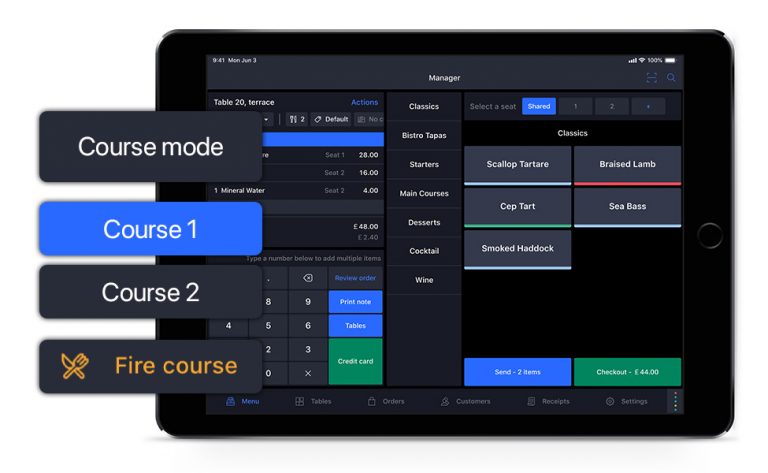 Apart from giving staff greater mobility, other features include:

Easily splitting customers' orders into courses
Giving customers the option to order by course or by seat.
Editing orders quickly in Edit mode
Responding to sudden changes by assigning orders to different tables or seats.
Personalising guests orders with product sequences.
Creating and managing floor plans from a single system
Taking fast payments and splitting bills by Item, Cover or Seat.
Harness powerful tools for menu engineering

Things can change quickly in the restaurant industry. That's why it's essential to have an ePOS system for restaurants to quickly adapt menus to changing circumstances and shifting demands.

With Lightspeed Restaurant ePOS, you can make quick menu changes without having to get a support team involved. This means that you can add and edit menus across many locations using just one system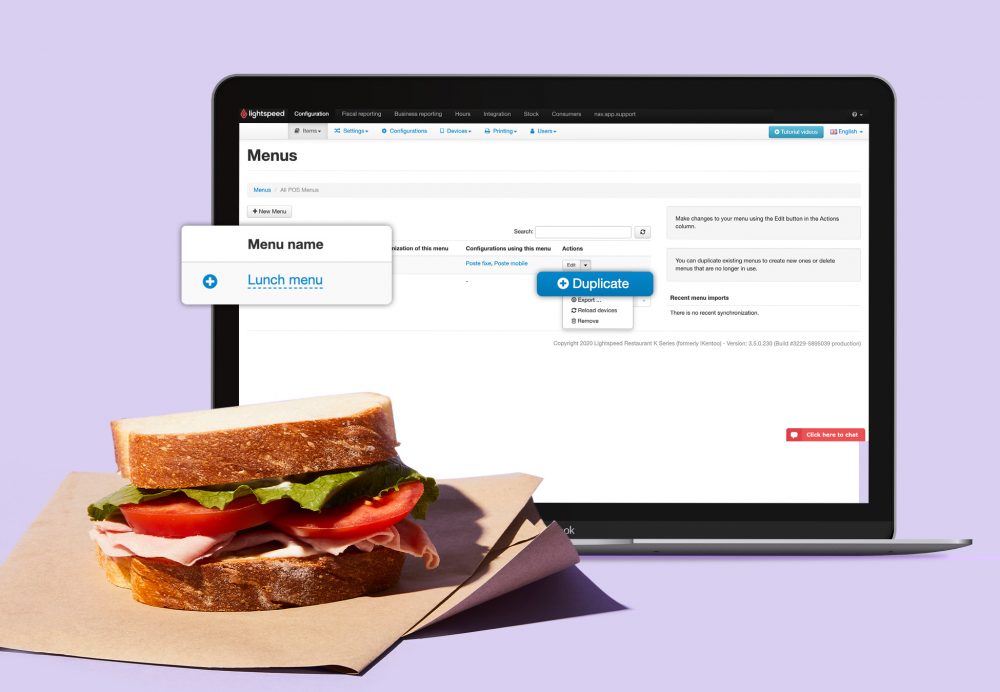 Here's how you can make easy menu changes from Lightspeed's back office.
You'd like to access a new revenue stream and decide to implement a food delivery service into your existing business model. Great idea!

You already have a menu set up in the back office, and want to offer your in-house dining menu for delivery—but you'll need to make a few adjustments. Some of your menu items don't travel well, or can't be packed easily for delivery.
Go into Lightspeed's back office and click on the Menus section. You see a clear overview of all your existing menus. In the drop down menu, there's an option to Create a new menu.
You don't want to think up a whole new menu, and luckily that won't be necessary. Select your menu, then select the

Duplicate menu

from the drop down menu.

Now that you've duplicated your menu, you can rename it and remove the items that aren't suitable for delivery, and add any new dishes that are.
Sync your new delivery menu with Lightspeed Delivery so that it can be easily added to third party delivery apps like Deliveroo and UberEATS.
Now customers can find your menu easily, and any orders made from these third party apps will be sent straight to your ePOS.
See Lightspeed in action
Watch our webinar, and discover how Lightspeed can drive your business forward.
Contactless ordering with Lightspeed Order Anywhere

Customer habits and expectations have changed for good. In a 2020 survey by Lightspeed, 17% of British diners said they would feel more comfortable dining out as long as they can order and pay via an app.

Not only did the pandemic bring new expectations around staff and customer safety, it also led customers to expect a higher level of convenience when ordering food from restaurants, coffee from cafes or beers from pubs and bars.

With Lightspeed Order Anywhere, you can successfully meet these new expectations with an advanced mobile ordering platform that lets customers access your menu from any device using a link or QR code, without even having to download an app.

Here's how it works:
It's a sunny day, and a lot of customers are looking to eat on your terrace. You're a little understaffed in front of the house, but luckily you're using Lightspeed Order Anywhere, and all your customers need to do is scan the QR code that you printed for each from the Order Anywhere back office.

Your hungry customer scans the QR code from their phones, and immediately gains access to your menu, where they can browse (this eliminates the need to clean and replace your menus everytime you flip a table).
After browsing your menu and deciding what they're going to order, the customer simply adds their chosen products to their cart then taps Go to checkout to place their order.

At the checkout screen, they enter their payment details, as well as their email address to which they can receive their digital receipt. At the checkout screen, they can add tips, and pay with credit and debit card.

Now they've entered their email address and payment details, they complete their order by tapping place order.
The order has been sent to your kitchen, just like it would with any other type of order, except your customer has experienced a digital and totally contactless ordering process!
The only part your waiter has to play in all this is bringing the customer their food or drinks once it's been prepared. With less tables to attend to, they can focus on fulfilling customer personal requests and bring that irreplaceable human touch to service.
Off-premise ordering with Lightspeed Order Anywhere
But wait, that's not all. Lightspeed Order Anywhere also facilitates takeaway, allowing guests to order straight from your website, cutting out third-party middlemen and saving you the commission fees!

Here's how Order Anywhere works for off-premise ordering.
A customer is sitting in a local park with friends, and decides that they'd like to order some food from you.

They go to your website, where they see a redirect link on your landing page.
Now they have access to your menu, and can select items directly from your menu, just like they would with dining in.
When it comes to checkout, the customer has two options for how they'd like to receive their order. They can either select an option for pick-up as soon as possible or place an order at a later date. From Lightspeed Order Anywhere, they're able to select specific days and times to collect their orders.
And just like that, you can easily set up your won takeaway service, and take advantage of a new revenue stream with Lightspeed Order Anywhere!

Future proof your business with Lightspeed Restaurant (K Series)

Digital technology is becoming the norm in hospitality. Don't get left behind; discover Lightspeed today and ignite your business's potential.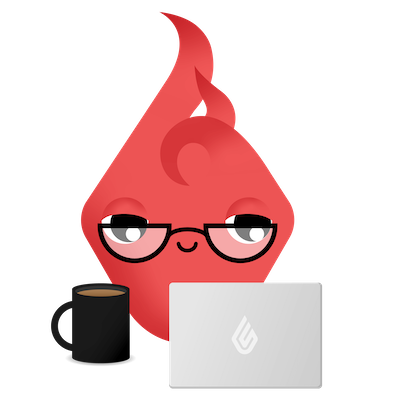 News you care about. Tips you can use.
Everything your business needs to grow, delivered straight to your inbox.