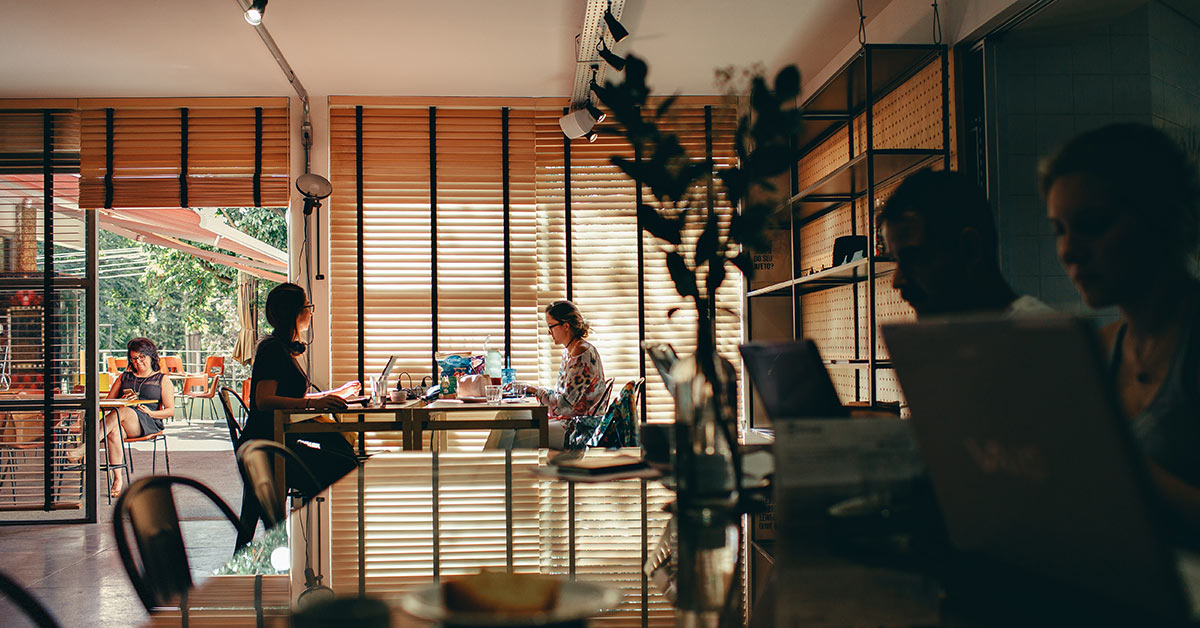 Coworking spaces (also referred to as shared workspaces) are popping up in cities and towns all over the world. These flexible offices offer freelancers and start-ups the opportunity to get away from their home offices or collaborate in an affordable workspace.
So what do coworking spaces have to do with restaurants?
With comfortable seating, power outlets, and delicious food and beverage options abound, most restaurants already have the skeleton of a great coworking space.
Restaurants and cafes can market themselves as part-time coworking spaces to bring in extra revenue, especially during slow periods. We're explaining how your food establishment can become a hub for start-ups and the self-employed.
In this article you'll learn
What a coworking space is

Why coworking spaces work

How popular coworking spaces are

How to make a profit as a coworking space

Why to turn your restaurant into a coworking space

Which types of restaurants make good coworking spaces

What amenities your restaurant needs to become a coworking space
What is a coworking space?
A coworking space is a new-age of office where freelancers, entrepreneurs, consultants, startups and students work in a shared space. To access a coworking space you usually need to pay for seating, a desk or a private room for groups. For that fee, workers get access to amenities like free WiFi, food and beverages.
Restaurants and cafes already have the work environment and amenities that many workers consider a pleasant working environment. As a result, restaurants and cafes are starting to position themselves as coworking spaces, especially during slower periods throughout the day.
Why do coworking spaces work?
A typical commercial space lease is three to five years long and can be risky for freelancers or startups to invest in—especially of they're bootstrapping their business.
Coworking spaces are attractive to solopreneurs and small businesses because they offer flexible memberships, typically on a month-by-month basis.
They also offer many of the same benefits and amenities of working in an office (networking, fast WiFi access, printers, meeting rooms, and more) without the sky-high leasing prices, overhead maintenance expenses or commitment that traditional office spaces do.
How popular are coworking spaces?
A decade ago, the concept of a coworking space was entirely new. Now, there are more than 11,000 in the U.S. alone, with Small Business Labs projecting that number to climb to over 26,000 by 2020.
According to McKinsey, one of the biggest factors contributing to the exponential growth in popularity of coworking spaces is the entrance of Millennials and Generation Z into the workforce, along with the rise of the gig economy.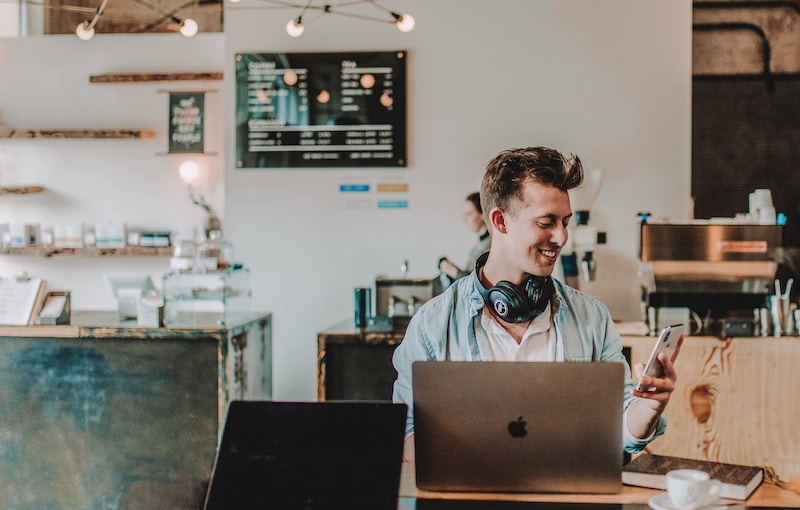 What is the gig economy?
The gig economy, also known as the freelance economy, refers to the dramatic shift in how people make a living.
Whether someone calls themselves a freelancer, consultant, or contractor, the concept remains the same: they work to fulfill a mandate, then they move onto the next. They don't have a full-time job with one organization.
And the Internet has made getting paid for your services easier than ever. It's what we now call the digital platform economy. Pew Research Center reports that nearly a quarter of Americans have made money as part of the gig economy.
If its current growth trajectory remains stable, the majority of the U.S. workforce will be freelancers by 2027.
For people who consider themselves a part of the gig economy, coworking spaces are a perfect place to work. They can get all the perks of working in an office without committing to a lease.
Can coworking spaces be profitable?
Restaurants and cafes already have many of the amenities required to run a successful coworking space, but what type of pricing strategy works best for the restaurant-turned-coworking-space business model?
The top restaurant coworking space business models
À la carte

Membership

Hybrid

Coworking space networks
À la carte model
In this business model, customers only pay for the food and beverages they consume. Customers do not pay for access to the space.
The benefit of this model is that it can attract lots of new customers because entrance to the coworking space is free.
This business model's downfall is that it might attract cheap customers who spend all day at the coworking space but only purchase one coffee. You can minimize the risk of this hurting your bottom line by optimizing the food costs and pricing of your coworking space's most popular menu items—like the coffee that you just know people will consume.
Membership model
A way to make a "coworking space" more exclusive and lucrative is to charge a membership fee. Customers can buy a day pass or a monthly subscription to have access to the workspace.
This business model works well for dinner-only restaurants because access to the "coworking space" is restricted to the morning and early afternoon. Membership could come with unlimited coffee or a snack buffet.
Cafes should be wary of the membership model because it would deter customers who just want to stop in for a coffee to go. If you're a cafe and you go this route, make sure your commercial space has enough room to support both your walk-in customers and those who want to take advantage of your coworking space.
Hybrid model
Another option is to charge for a membership or a day pass and charge for coffee and food. This is popular in cafes where people pay a small fee for a reserved seat and several hours of internet access but can upgrade to a package that includes unlimited coffee and food.
Coworking space networks
There are networks for restaurants-turned-coworking spaces that connect empty restaurants with self-employed people who need workspaces.
Spacious and KettleSpace are examples of a few such networks in New York. Members pay monthly fees and host restaurants get a cut of the profits.
Why turn your restaurant into a coworking space?
When restaurants double as coworking spaces, they can generate revenue during otherwise profitless times and attract new customers.
Sell more during off-hours
Take for example a New York City restaurant that is only open for dinner service. Dinner-only restaurants are paying for rent but leaving the space unused for most of the day. Opening up during the day as a "coworking space" would bring in extra profits and maximize the money they're already investing in rent.
Monthly rent for a restaurant space in New York City's popular neighborhoods costs $102 per square foot. This means that a restaurant occupying 1,000 square feet spends $10,200 each month on rent. The restaurant must generate at least that much revenue just to break even on the space, not including labor and food costs, which take up approximately one-third of a restaurant's revenues, respectively.
If that restaurant opened a few hours earlier each day and spent $12 per hour on a host and barista, it would only cost the restaurant about $144 per day in labor costs.
Think about the opportunity for additional revenue that this simple change would create.
The restaurant could create a limited mid-day menu (think coffee, snacks, and sandwiches or salads based on items from the dinner or seasonal menu) for an easy way to bring in revenue outside of its regular hours.
Reach new clientele
Another benefit of marketing your restaurant as a coworking space is reaching an entirely new clientele.
Someone who comes to your restaurant looking for an unconventional coworking space may come back to your restaurant for dinner if they had a good experience during the day. Alternatively, they could come back to your restaurant every day to get their work done while enjoying your food and beverages.
Furthermore, because restaurants-turned-coworking spaces are still a new phenomenon, your restaurant could benefit from press coverage by being an early adopter of this trend.
What kinds of restaurants are a good fit for coworking?
Not all restaurants are suitable as office spaces.
Amenities and seating options can make or break a restaurant as a coworking space. Here's the scoop on what kinds of restaurants make good coworking spaces, and which venues should avoid the venture.
What kind of restaurants make good coworking spaces?
Dinner-only restaurants

Cafes

Quick-service restaurants
1. Dinner-only restaurants
As we already mentioned, dinner-only restaurants can make great coworking spaces, especially in cities where rent is expensive.
Coworking time can help subsidize rent. Dinner-only restaurants are typically well-designed and have great seating, which makes them attractive to laptop warriors. Instagram-worthy decor doubles as a photo op for solopreneurs to spread the word about your restaurant-turned-coworking space to friends and colleagues through social media.
Fine dining restaurants are generally poor candidates for coworking spaces because fellow diners probably don't want to hear the sound of laptop keyboards clicking as they enjoy an expensive meal. That wouldn't align with what they expect from a fine dining restaurant experience.
2. Cafes
Cafes have long been the workplace of choice for freelancers, students, and creatives. They're a natural fit for coworking because they already have the amenities that people want: coffee, WiFi, outlets, and comfortable seating.
Montreal's Crew Collective and Cafe is a great example of a cafe-turned-coworking space. Situated in the heart of Montreal's Old Port, Crew Collective serves beverages, lunch and pastries, while offering tons of seating, fast WiFi, and even private rooms if ever you have an important meeting.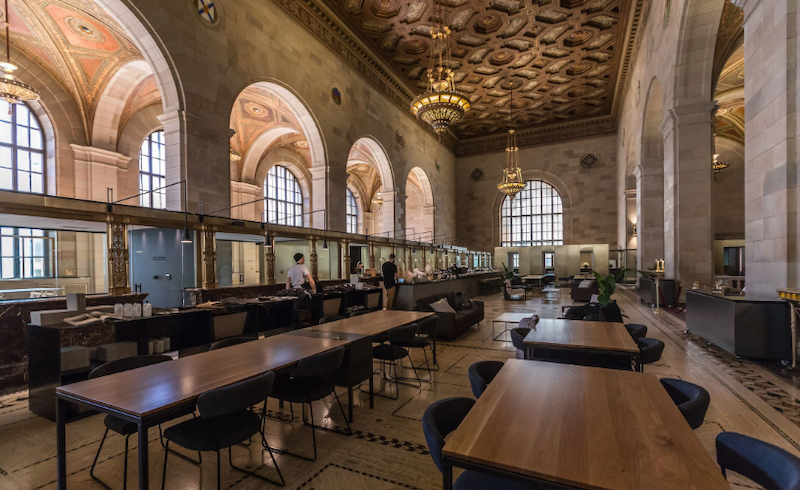 Image source: Crew Collective and Cafe
3. Quick service restaurants
Quick service restaurants (QSRs) are busy during the lunch and dinner rushes but can be nearly empty between meals.
QSRs make good coworking spaces because they already have lots of seating, outlets, and WiFi. The around-the-clock availability of food for freelancers means that QSRs can easily generate more revenue during slower periods of the day by marketing themselves to solopreneurs that need a place to work for a few hours.
What amenities does your restaurant need to become a coworking space?
In order to turn your restaurant into a part-time office, you must be able to offer these amenities to your customers:
Fast WiFi

Power outlets

Coffee

Individual work stations

Phone booths

Collaboration spaces

Printer

Rewards program

Self-order menus
1. Fast WiFi
Your restaurant may need to install WiFi or upgrade its current connection so that it can handle the needs of many customers using the internet at the same time. Reliable WiFi can make or break a restaurant's viability as a coworking space.
2. Power outlets
Another important tech amenity is electrical outlets. Solopreneurs and startups need to keep their phones and laptops charged.
How many outlets does your restaurant have and where are they located? If your space only has outlets that are accessible to tables that are near a wall, consider adding tabletop charging stations to centrally located tables.
3. Coffee
Coffee is the fuel of freelancers, students, and professionals everywhere. If your restaurant doesn't typically serve coffee, find a cost-effective way to introduce it with your new midday offerings.
4. Individual work stations
Tables for two can double as desks for independent workers. If your restaurant only has communal tables, don't fret! Communal tables are also an acceptable option as they let people network and make professional connections with nearby workers.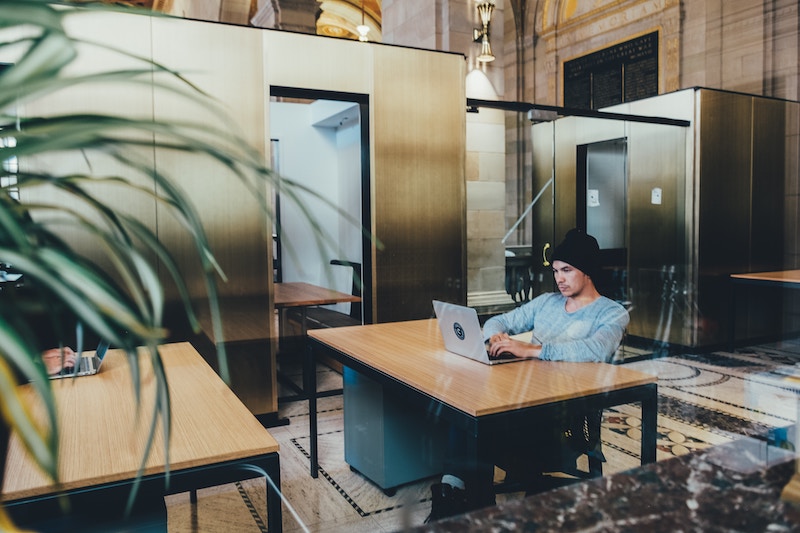 5. Phone booths
"Phone booths" or private, quiet areas can help people take business calls without being distracted or distracting others. If you have any unused closets or storage spaces in your restaurant, you could convert them into phone booths simply by placing chairs inside.
6. Collaboration spaces
Sometimes solopreneurs need to meet with collaborators or clients. While large tables will suffice as meeting spots, it's even better to have private spaces for collaboration.
For example, Montreal's Cafe Parvis not only has their dining room, but they also have rentable collaboration spaces for meetings and events.
Their beautiful workspaces, paired with their great food, coffee and amenities like WiFi and power outlets, make it a popular destination for professionals, entrepreneurs, freelancers and students alike.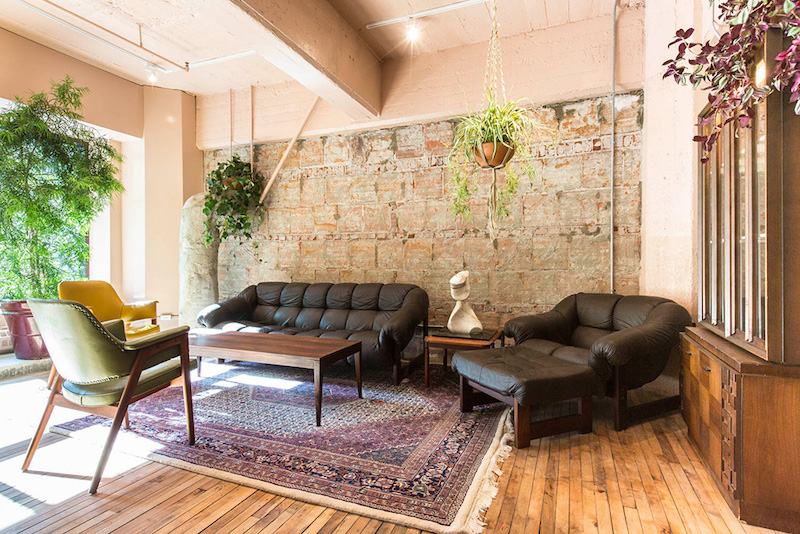 Image source: Cafe Parvis
7. Printer
Even in the digital age, printers are still a part of doing business. Consider installing a pay-by-the-page printer at your restaurant. Find one that doesn't take up a lot of space and that can be hidden during dinner service.
With the addition of a few deluxe amenities, you'll have solopreneurs ditching their WeWork memberships for your restaurant-turned-coworking space.
8. Rewards program
The ultimate objective of turning your restaurant into a coworking space is to become a hub for anyone looking to get work done, whether they're entrepreneurs, freelancers, students or somewhere in-between.
A rewards program rewards customers who habitually work from your coworking space by offering them special offers, promotions and freebies based on how much they purchase and how often they visit. The more they buy, the more they get.
The result is that your patrons end up purchasing more so they can unlock more rewards. With incentives like free coffee and treats, loyalty programs help increase your sales and grow your repeat customers.
In fact, management consulting firm Bain & Company found that scaling your loyal customers by as little as 5% can grow your sales by up to 75%.
9. Self-order menus
It's completely understandable if guests using your restaurant as a coworking space don't want to have their work interrupted by servers.
That's where self-order menus can add value to their experience.
Rather than signaling for a server to take their order, a guest can simply place their order from an iPad next to their table and the order is sent to the appropriate kitchen workstation.
From the customer's perspective, all they had to do was tap a button. Next thing they know, a server is bringing them their order.
No interruptions, so they can stay in the zone and get work done.
It also enables your servers to focus their energy on delivering an awesome customer experience to sit-down guests.
Basically, you can serve more customers without spending more on labor.

How to turn your restaurant into a part-time coworking space
While starting a coworking space business from the ground up requires significant investment, many restaurants and cafes are already equipped with many of the essentials.
Traditionally, restaurant profit margins are razor-thin, and that's exactly why becoming a coworking space is such a compelling opportunity: It unlocks additional revenue that you would otherwise lose.
Officially positioning your restaurant as a coworking space will help you sell more during typically off-hours by attracting an entirely new type of customer. Whether it's through food and beverage sales, memberships or paid amenities, coworking spaces give restaurant owners more opportunities to generate revenue.
As work becomes increasingly remote, so will the number of people looking for a comfortable space to work from. Restaurants are in a great position to fill that need.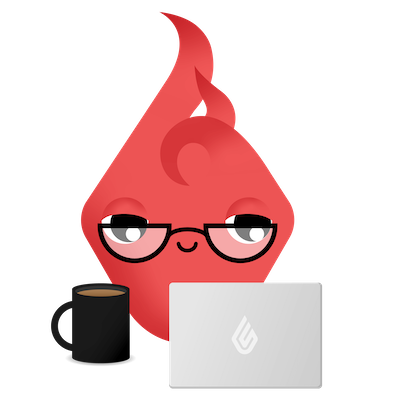 News you care about. Tips you can use.
Everything your business needs to grow, delivered straight to your inbox.