Going on holiday doesn't always have to mean catching flights and exchanging currencies. There's a lot to be said for taking trips within one's home country.
With hotels being allowed to reopen as on May 17th and for restriction on capacity to be lifted by June 21st, it may be time to start thinking about securing local bookings from domestic tourists once again.
Whether they are visiting friends and family, going away on business, or simply taking a well-needed leisure holiday—domestic customers shouldn't be overlooked.
In this post, we'll take a look at the following topics

Let's dive in!


Get the digital hospitality tools for the future
Lightseeed provides the tools to help hotels thrive. Download our free hotel guide and find out exactly what Lightspeed can do for you
What is domestic tourism?
Unlike inbound tourism (where people from one country visit another) domestic tourism is when people visit holiday destinations in their own country.
The UK domestic tourism is a booming sector that employs 2.6 million people. Tighter budgets and the rise in popularity of staycations and mini-breaks has meant that domestic visits were higher than trips abroad in 2018.
In 2019, domestic tourists from urban areas injected £25 billion into seaside and rural economies, creating jobs and growing otherwise ailing local economies.
And Britain's love for domestic travel isn't going anywhere. In fact, hotels have to connect with their local clientele more than ever before.
Domestic tourism may serve to compensate for a loss in international travel brought on by the pandemic. It can also stimulate the economic growth of areas of the country that have previously seen less investment, helping to address regional wealth imbalances and ensure prosperity after Brexit.
Speaking of Brexit, the UK departure from the EU may have also contributed to the rise in staycations and domestic travel over the years. In 2016, the subsequent drop in the pound made holidays on the continent a little more expensive, leading Brits to choose more local holidays destinations.
How to gear your hotel towards the domestic market
While you shouldn't neglect your international customers, shifting your focus towards your homegrown clientele will provide a much-needed source of revenue during a lull in international travel.

Last June, large hotels saw hikes in bookings of up to 575% once the UK government announced its plan to relax lockdown rules, and they're following a similar trend this year.
So how can you prepare for the influx of domestic bookings to your hotel?

Learn from the past
Think back to last year, or even before the pandemic: what kind of guests were staying at your hotel? Was most it families, or urban couples seeking escape? What proportion were lone individuals on business trips?
Use guest data collected on your hotel PMS software and CRM system to gain insight into who your guests are. Ask yourself whether those audiences are still viable clientele, and consider the potential that lies in the domestic market.
Some great hotel PMS solutions include:

Consider which aspects of your offering brought in the most sales. Analyse past sales data in your hotel restaurant ePOS. Was the bulk of your sales coming from your restaurant, or from room service?
If your hotel restaurant was a prime source of revenue in the past, it may be a sound strategy to optimise your outdoor space for al fresco dining and market your restaurant to local clientele. Create specialised deals and promos in your ePOS backend can help with this.

Get into tourists' heads
Social media is a valuable tool for connecting with people across the world, but it can also be used to connect with local audiences as well, and let them know you exist.
Now would be a time to engage with potential domestic clientele and get a feeling for what customers expect and what their pain points are. Use your presence on social media to gauge what guests are feeling, and start a dialogue about what they expect from hotels at this time.
Here are some tips for those of you who don't have an established social media presence yet:

Choose the right platform: if you're posting on the wrong platform, you're not going to reach the people you want to. Consider which audience use which platforms. Older audiences have a larger presence of Facebook, for example, whereas younger ones spend more time on Instagram or TikTok.

Tap into local influencers: many small businesses invest in micro-influencer marketing, which is when you partner with individuals that align with your brand to promote your products with authentic, visual posts on their social media accounts.
This type of marketing strategy has such a high return on investment because influencers act as social proof for your brand, encouraging those who follow and trust them to try your product. Since the recommendation is coming from a trusted source, that influencer's followers are more likely to trust and try your brand.

Follow the 60/30/10 rule: According to SnapRetail, the 60/30/10 rule states that 60% of the posts you create should be engaging content that gets people reacting, commenting and sharing, 30 percent should be shared content, and 10 percent should be promoting your products and services, sales, events, etc. Apply the 80/30/10 rule to maximize your engagements on social media with a mix of engaging, shared, and promotional content.

Optimise for local searches
One of the most effective ways of reaching local clientele is to make sure that your hotel is appearing in local searches.
Update your listing on Google My Business
With over 77,500 searches per second, Google is by far the most used search engine. When local users a search for 'hotels near me' on google, they're met with a listing of local hotels. If you want to optimise your online presence to attract local bookings, you're going to want to appear on it.
To appear on these listings, you need to fully optimise your Google My Business profile. Do this by:
Filling out your profile completely with all the details of your business e.g. hours, address, contact info and a link to your website.
Adding photos of your business' interior, products and staff. The way your business is visually represented can tell customers a lot.
Frequently checking and updating your Google My Business listing to make sure all the info is up to date and accurate
Optimise your website for local SEO
According to SEO Tribunal, 97% of users learn more about local businesses online than anywhere else. If you're not using your website to help your business appear in local searches, you're missing out.
Once you've optimised your Google My Business listing, the next step is to ensure that your name, address and phone number is consistent throughout your webpage and anywhere else you've included this info.
Manage online reviews
Reviews act as an online sounding board for your hotel. Once left by a customer, they're then read by others who find you in local searches. You can't control whether a customer will leave a good or a bad review, but how you respond makes all the difference.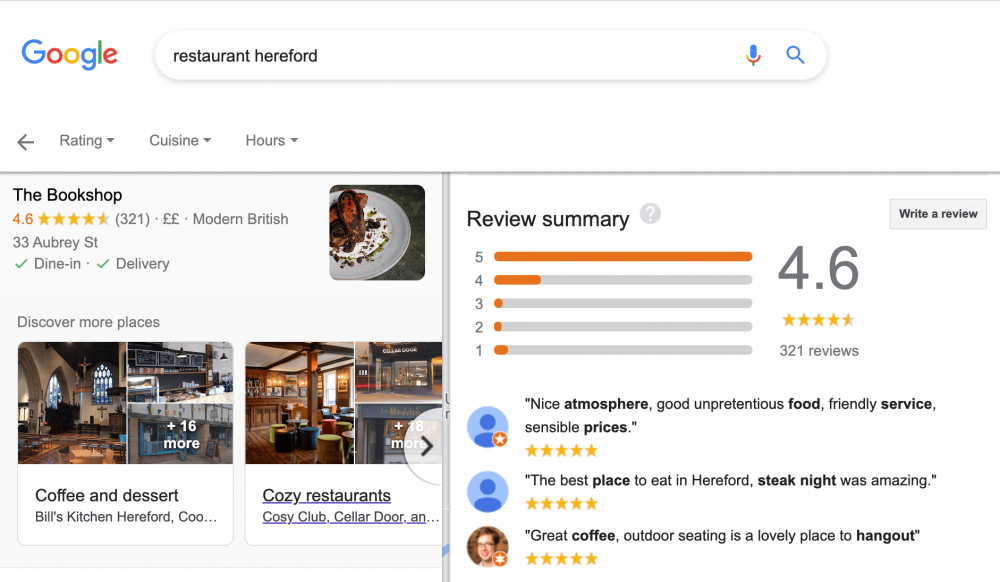 Seeing negative reviews can give customers a basic idea of the worst-case scenario for your business, and also reinforce a sense of transparency. Even the best businesses will have an unhappy customer at some point, and customers may be more likely to believe twenty great reviews when there's one negative counteracting it.
Tactfully responding to a bad review is an opportunity to showcase the quality of your customer service. A graceful response to customer complaints can save a user's perception of your business.
Respond quickly and calmly
Ask them to contact a specific email or phone number to resolve it privately
Flag fake reviews with Google
Learn from others
Pay attention to what other hotels are doing, and consider what you can realistically implement into your own hotel.
Is it possible to give temperature checks at the door? Have you introduced contactless solutions such as mobile check-in to your technology stack? Have you adjusted your floor plan to reflect social distancing measures?

The Fife Arms

in Braemer have installed sanitisation stations throughout their sprawling Victorian premises and have updated their technology stack for contactless online check-in.

The Bird, Bath

has discontinued its breakfast buffet. Breakfast can now be pre-ordered the night before. In their hotel restaurant, they are adopting a mobile app which allows for completely

contactless ordering and card payment.

The extravagant

Chewton Glen

in New Milton has redesigned its restaurant floor plan to accommodate social distancing, and has even removed salt and pepper shakers from their tables (these are available on request, and cleaned after every use). They've also been able to expand capacity by

utilising their existing outdoor space

.
Such measures are important for making guests feel safe and secure, and giving them the confidence to come to your hotel. Make sure you also communicate the measure you've taken on social media.
Leverage local assets
Guests' movements have been restricted for months and they may now be hungry for adventure and new experiences. Now is the time to show off what your hotel, and your region, can offer.
What appeals to your international clientele might not be as attractive to your domestic market. Do your research into what your local area has to offer domestic tourists.

Know your local beauty spots and advertise them (now possibly with less crowds due to less international tourists).

Local industries in your area? See if you can work with local artisans to offer workshops for their crafts.

Research nearby hiking routes for opportunities to offer walking tour packages.

Make use of historical landmarks in the area, and invite guests to get in touch with local history and stories.

Team up with local experts to offer wildlife excursions or nature trails.
Travel bloggers may well be setting their sights on domestic locations due to difficulty around international travel. Try getting in touch with a few to share their ideas and possibly promote your hotel in their content.
Email marketing is an effective tool for drawing attention to local attractions. With ePOS integrations like Mailchimp, you can target specific audiences with content and promotions that will interest them.
For example, families with children may be particularly drawn to attractions such as zoos and theme parks in the area – leverage these assets to target these audiences, and even team up with local attractions for mutual benefit.
Time to update your hotel tech?
Whether they're taking a staycations or visiting on a business trip, domestic guests will still expect a frictionless hotel experience. With the right technology, you can deliver exactly that.

PMS and ePOS
Consider updating PMS and ePOS technology to make customer service more efficient. To get ahead in today's market, your PMS should be able to connect seamlessly with other systems, such as:
Central Reservation System (CRS)

Customer Relationship Management (CRM)




Revenue Management System




Channel Manager




Point of Sale system for retail and restaurant



Legacy vs Cloud
If you're using a legacy system in your hotel, now may be the time to weigh up the costs and benefits of switching to a cloud-based system.
Legacy systems are those established technologies that hotels, restaurants and other businesses have been using for years. They may be what you're used to using and feel most comfortable with. But in uncertain times, innovation is key.
Cloud-based systems take a more integrative approach to technology for running your business, and allow both flexibility and security across multiple touchpoints and locations, and allow business owners to better access the data they need to drive their business forward.
They boast a range of features that are more crucial for hotels than ever such as contactless check in, order to room, order to table and charge to room.
Lightspeed cloud-based ePOS provides several integration options with PMS systems and mobile ordering, and can be used for your hotel restaurant, gift shop or golf course.

Curious what a hotel restaurant ePOS can do for you?
Talk to one our of experts, and start digitising your business today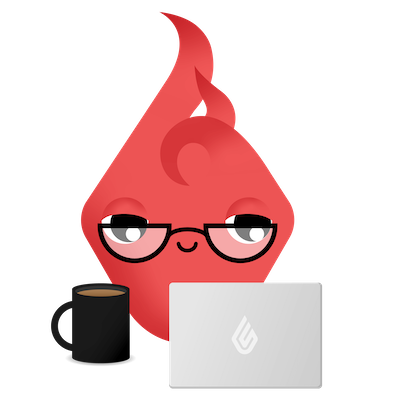 News you care about. Tips you can use.
Everything your business needs to grow, delivered straight to your inbox.