If you work in the hotel industry, no doubt you've heard the terms 'ePOS' and 'PMS' before. You may be aware that both systems are often used together, but you may not know what clear cut differences there are between them.

Knowing how an ePOS and a hotel PMS differ—as well as how they interact together—is important if you're looking to invest in a more advanced technology stack for your hotel. Both carry specific functions essential for hotel management but, as we'll see, most modern, cloud-based ePOS and hotel PMS solutions go above and beyond what they were originally intended for.

Lightspeed Restaurant ePOS integrates with a whole slew of different hotel PMS solutions, making communication between the two systems more fluid. So let's explore their differences, and look at how they work together. In this blog we'll cover:
Looking to modernise your hotel operations?
Lightspeed helps hotels consolidate their operations, so they can enhance the guest experience while growing their margins.
Why use an electronic Point of Sale (ePOS) in the hotel industry?
An electronic point of sale system is an essential tool not just for hotels, but for any business. Like the name suggests, it is the 'point' in your business where sales take place.

Our traditional image of an electronic point of sale or cash register is a fixed point on a business's premises where transactions are processed, usually via cash and paper receipts.

This has changed. All transactions processed on an ePOS for hospitality like Lightspeed are recorded digitally, and that data can contribute to various other areas of business management such as sales and inventory reporting, as well as marketing in your hotel.

As anyone who works in a hotel knows, sales don't occur in one place. Most hotels house several distinct revenue centres (places that generate revenue) under one roof.

A guest may order their lunch in the hotel restaurant, then afterwards retreat to the spa to select one of many treatments on offer. After that, they go to the hotel bar to order a glass of white wine and that evening, they order an evening meal to their room.

All of these transactions would have been processed at different revenue centres (the hotel restaurant, spa, bar and room service). With Lightspeed, no matter where the transaction takes place, staff can charge guest's purchases straight to their room.

Staff don't need to open new tickets at each new revenue centre either. Guests can open a tab in one place and close it in another, like if a guest orders wine at the bar then dinner on the terrace.
Other Lightspeed ePOS features
Fully customise your floor plans to accurately reflect your hotel restaurant.
Build and edit menus, and assign them to different devices using menu management tools.
Pinpoint trends and utilise data with built-in reporting.
Deliver outstanding table service and take orders from anywhere with a cloud-based iPad ePOS system.

Access new revenue streams and reach local customers with Deliverect.
Allow guests to take contactless orders from their phones via QR code with Lightspeed Order Anywhere.
Assign user roles and permissions to bar, kitchen and wait staff.
Streamline your hotel restaurant experience
See Lightspeed Restaurant's advanced table service features in action with this short demo.
Property Management System (PMS)

A hotel PMS helps staff and management handle all the main facets of hotel management. This includes bookings, check-ins, housekeeping, customer service, billing and payments: the bread and butter of hotel management.

But many contemporary hotel PMS solutions on the market do this and much more. On a modern, digital, cloud-based hotel PMS you can:
Gather guests' data to inform your marketing and offer personalised guest experiences.

Give a detailed overview of room status, so management can see which rooms are reserved, which are occupied, and which need cleaning—all from a single dashboard.

Easily access detailed information about rooms—including the kind of views they have, specific facilities, prices et cetera.

Integrate with accounting and revenue management to create a clear overview of revenue, expenses and seasonal trends.
How do a hotel PMS and ePOS work together?
The main way that an ePOS and hotel PMS work together is by sharing each other's data to give the guests a seamless experience throughout their hotel stay.

When a guest checks in, their information on your hotel PMS syncs automatically with your ePOS for hospitality. Once a guest wishes to charge something to their room, staff can use the ePOS to find them by name or room number.

Like we've already mentioned, guests may make purchases at several different revenue centres throughout their stay. Handling this is easy once you've integrated your ePOS with your hotel PMS—simply add a 'charge room' option to your payment methods and the data is saved on your hotel PMS.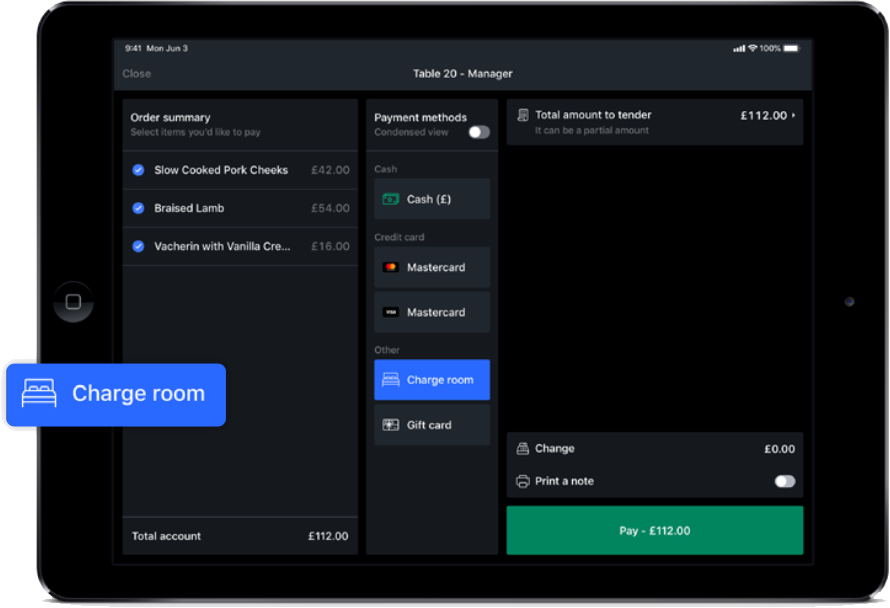 This information can then be exported to your hotel PMS and charged to a guest's room, allowing for frictionless communication between the two systems and speeding up customer service.

An integration between your ePOS for hospitality and hotel PMS also allows for more accurate revenue posting. Whether your restaurant's guests are in-house stays or walk-ins there to enjoy your hotel restaurant, revenue from both will be sent to your hotel PMS, so you can get the full picture of all your food and beverage revenue.
Discover hotels that thrive with Lightspeed
Boundary London
Boundary London opened in Shoreditch in 2008. As a boutique hotel, it houses seventeen individually designed rooms and two restaurants, food and beverage operations—an all-day bar and brasserie, plus a rooftop bar and grill.
For years, Boundary London used clunky, legacy hotel PMS and ePOS solutions that couldn't integrate with other hardware and were lacking in user experience.

"It took the staff a long time to put orders through if they had to make any changes," said Boundary's Chief Operating Officer, "the team spent a lot of time on the floor with their backs to the customers trying to do even simple things."

Boundary London soon adopted MEWS, a more flexible cloud-based hotel PMS system. But they also needed a cloud-based restaurant ePOS that integrated their two food and beverage operations with their new hotel PMS.

And that's how Boundary Hotel found Lightspeed and gained full control over their entire property's operations. "All of our restaurants are connected to MEWS via Lightspeed. So whether a guest dines on our roof terrace, or in our restaurant, we can charge their orders directly to their room."

What was once a manual, time-consuming procedure where staff would take the receipts from the restaurant and bar and run it through to reception became an automated, seamless process.
Staycity
Staycity was the brainchild of two brothers, Tom and Ger. Before the days of booking.com and Airbnb, the Dublin-based duo saw a gap in the market for booking serviced apartments online. The success of their first location drove them to launch more properties across their home town of Dublin and the UK, swiftly followed by Europe.
It soon became clear that guests were looking for a food and beverage outlet at their aparthotels, and in came in the introduction of properties with cafés, full-service restaurants and licensed bars.
When Simon Lee joined Staycity as Head of Food and Beverages, it was clear that the business needed to migrate from its archaic ePOS, and they adopted Lightspeed. The ease of use is one of Lightspeed's key selling points for Staycity.
"Lightspeed is very intuitive to use. If I set up a new product, I haven't got to go into 20 different screens to make sure it prints in the right location. The tax is right. It's all done in one easy process from start to finish." said Simon.
Get the digital hospitality tools for the future
Lightseeed provides the tools to help hotels thrive. Download our free hotel guide and find out exactly what Lightspeed can do for you
The Other House
The Other House pride themselves on implementing modern technology to aid their operations. As a residents' club with flats, they needed an ePOS provider that integrated with their existing property management system.
"We had MEWS as our PMS, and we needed an ePOS that spoke to MEWS. At The Other House, we're very tech-driven, and Lightspeed came out on top as it's cloud-based, has an API we could work with and Apple hardware that's modern and sleek." said Ashley Slinger, Senior Finance Manager.
Creating a highly personalised experience for the customer is vital to The Other House, and using the Lightspeed API lets them do exactly that.
"We used the Lightspeed API to create an app for guests to use for absolutely everything. You can use the app to check in, you can use it as your key card, you can use it to turn the lights on, to call the lift, to order your breakfast, to pay for your dinner, to see how busy the restaurant is, or how quiet the gym is. This app is unique to us, and it was important we had the technology that enabled us to build it." Ashley said.
Which hotel PMS is right for you?
Oracle—charge to room features and centralised customer profiles
Lightspeed Restaurant ePOS was the first cloud-based software to integrate with Oracle's OPERA Cloud. Since then, the two systems have worked seamlessly together.

Oracle Opera works with Lightspeed to send guest's receipts to their hotel PMS. This means that the guest's expenses will be automatically accrued to their account and charged at the end of their stay, no matter whether they spent money in the restaurant, or in the spa; it all ends up on their end-of-stay bill.

On Oracle Opera you can also create centralised customer profiles, so after a guest has stayed at one of your hotels once, their data will be saved across all your locations. This means that if you have multiple locations, guests can get personalised customer service whenever and wherever they stay with you.
RoomRaccoon—manage all your operations in one place

Organise and automate your processes with the hotel PMS, RoomRaccoon. The easy-to-use system lets you manage payments, invoices, check-ins and more.
The online check-in system simplifies an otherwise time-consuming task. RoomRaccoon automatically sends the check-in link to guests, removing the need for manual work.
Keep in touch with guests before they've checked in and once they've checked out with automatic emails. As well as providing guests with relevant information, you can encourage repeat visits with post-stay promotion codes.
Improve communication internally, too, with real-time reports. Share easy-to-digest data across different teams, from reception to management.
By creating a more efficient management system, hoteliers can focus on the more engaging – and exciting – elements of the job, and give their customers a smoother experience.
Protel—efficient housekeeping tools
Protel helps hotels keep their profits high and their occupancy up through its efficient housekeeping tools.

From its housekeeping dashboard, staff can keep track of each room's status, allowing them to assign staff accordingly and restore any empty rooms to make more reservations.

With its additional lost and found dashboard, staff can keep track of guest's lost possessions, so they can provide exceptional customer service far beyond a guest's stay.
5stelle*—a powerful booking engine to grow your revenue

While third-party booking websites charge a fee for every reservation they bring your hotel, a hotel PMS like 5stelle* lets you take power into your own hands.

It offers a PMS-integrated booking engine, so you can take bookings straight from your website, completely commission free! You can even create your own promotional codes to drive guest's to make reservations from your website.

5Stelle also saves client data automatically into its PMS solution when guests' book with you – saving you time and reducing the chance of error. Control multiple locations from a centralised database, and use client data to inform pricing and improve customer relationship management.

Hotel PMS checklist
Not all property management systems are created equal. To help you find the ideal hotel PMS to pair up with your hospitality ePOS system, we've outlined the seven questions you should ask when researching a new solution for your property.
1. How easy is it to use?
The most powerful tech solution will do little good if your staff find it hard to use. Difficult programs reduce efficiency and your team will not use the tool to its full potential. That's a lose-lose situation since your employees will feel frustrated with the programme and you are not getting your money's worth from it.
When you are looking for a new tech tool, always keep ease-of-use in mind. Ask the provider how long it takes to set up, how long the onboarding time for new users is and whether they offer free or paid training when you sign up. Today, many tech providers offer 'self-service education', evergreen tutorials and trainings their clients can access for free at any time. Especially in a high-turnover industry like hospitality, this is valuable since it lets you quickly and easily train new staff. Don't forget to ask about this during your research.
Next, find out what current customers are saying by asking colleagues in the industry or checking review sites like Hotel Tech Report. As a final test, get a free trial or at least a demo. Especially in an industry like hospitality where staff turnover is high, you want to make sure new team members can easily catch on and get to work rather than spend days in training for every software you use.
2. Does it integrate with other applications?
Using open apps that easily integrate with one another is key to setting up your hotel's tech infrastructure.
True two-way integrations mean that the data produced by one system (say, the room service bill that one of your guests orders) is automatically pushed to another system (that room service bill getting automatically charged to the card on your guest's profile in your hotel PMS) without human intervention.
Integrations are key to offering a frictionless stay for guests while minimising operational complexity for your employees; everyone wins. And you don't have to be a tech wizard to integrate your systems.
The Mews Marketplace helps you easily test and implement new programmes that readily integrate.
Without the hassle of invoice or set-up, you can select and implement new tools—applications or your spa, events, facilities, revenue management, distribution, business intelligence and upselling—directly from your hotel PMS dashboard and begin automating operations, saving valuable time and taking the guest experience to new heights. A plug-and-play marketplace is the best way to keep optimising your business.
On the other hand, if a tech solution doesn't have an open API, you could incur significant additional costs when connecting your applications.
3. Is it cloud-based?
Today, many industries are shifting to the cloud and hospitality is no exception. Cloud-based programmes have many benefits including improved efficiency, cost-effectiveness, accessibility, flexibility and higher data security.
You can also consider them 'future-proof' because tech providers can easily update their products to accommodate the newest developments or add extra integrations. That happens on the cloud, so you get access to these updates as soon as they are live and don't have to wait for tech support to manually upgrade your system on-site which is often both time- and cost-intensive.
4. Is it customer-centric?
In hospitality, the end goal of implementing a new tech solution is to improve the service and experience you can offer guests. This is true both when guests themselves use an application or when it helps your staff work more efficiently.
Especially when looking for an application to be used by clients (e.g. a chat app or a reservation tool), the guest-facing part must be user-friendly, fun, engaging and mobile-optimised. Using innovative concepts such as online check-in, Apple Wallet or a mobile room key is a great way to create a lasting positive impression and build guest satisfaction and loyalty.
Apart from improving the guest experience, a good hotel PMS must also provide great service to the hotel using it. 24/7 localised customer service should be included for free and easily accessible via email, a hotline or a module on the dashboard. Unfortunately, too many hotel PMS providers hide behind impersonal email chains and take longer than they should to respond to and solve their clients' queries. Save yourself this trouble and ask upfront what kind of support you can expect. On top of asking the vendor directly, read online reviews to learn how well current clients feel cared for.
5. Does it use AI?
AI's capabilities are growing every day—take advantage of that for your business! Whether it's for back-of-house applications that help you optimise inventory or guest-facing programs like intelligent communication apps, the possibilities keep getting better and more interesting.
For example, some applications can help you predict demand based on past data, current trends, events and even the weather. Imagine how practical it would be to get a reliable demand forecast for your bar or restaurant based on data points you never even thought to consider.
Other AI programs help streamline guest communications during the booking process and before they arrive at your venue. For instance, chatbots could take restaurant bookings and record preferences, allergies or requests like a birthday cake.
All this to say, AI has some exciting use-cases in the hospitality industry and can improve your guests' experience, so why not give it a try?
6. Is data security guaranteed?
We all remember the data breach scandal at Starwood and its consequences. You don't want to be in that situation because you didn't do your research on data security.
Check the tech tools you're considering carefully, ask the provider questions about how they manage data, who owns it and who is responsible for keeping it safe. Professional product reviews by industry experts are another great place to find information about data security.
On top of learning how the tech company keeps data safe, learn which measures you can take to guarantee maximum data security.
7. How is it priced?
While this one might sound obvious, it's worth mentioning because there can be some pitfalls and unpleasant surprises. Often you won't find one flat fee advertised because the final price depends on the type of package you choose, how many services and add-ons you want and several other variables. When checking and comparing pricing, it's extremely important to understand how your rates will be calculated and which one-off expenses you will have to shoulder.
Things to check for include a one-time set-up fee, hardware you might have to buy (and how many pieces), monthly subscription fees, commissions on sales you generate, maintenance fees, extra costs for integrations with other programs and the contract's cancellation policy.
Most tech providers also offer different packages for large, medium and small businesses. Make your choice carefully, so you don't overspend on functions and services you don't need.
Achieve a frictionless guest experience through streamlined integrations
While it can seem challenging to create your ideal hospitality tech set-up in the jungle this domain has become, taking the time to map it out will have a powerful impact on your business.
From improved efficiency, happier staff, raving fans and an increased bottom line, a powerful ePOS-PMS pair can drive your hotel forward. Curious what Lightspeed can do for you? Let's talk.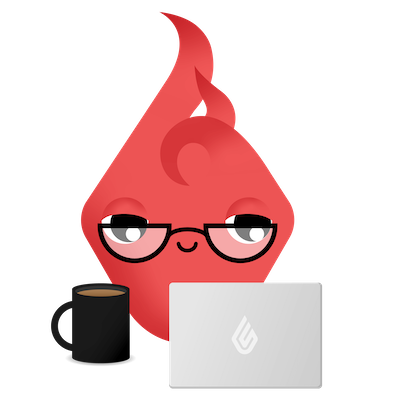 News you care about. Tips you can use.
Everything your business needs to grow, delivered straight to your inbox.