Hotel PMS and Hotel POS: What's the Difference?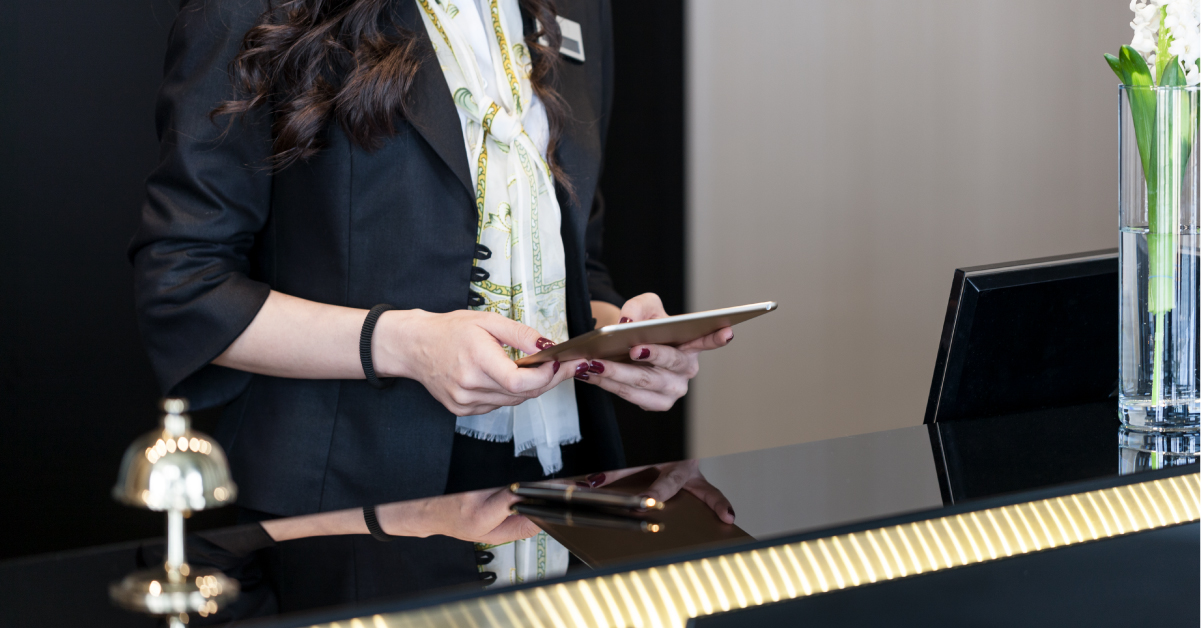 Chances are that if you're reading this, you're looking to clarify what the difference is between a hotel point of sale (POS) system and a Property Management System (PMS).
How are they different? How do they work together? What should you look for when vetting different solutions?
If you're seeking clarity, you're in the right place.
To help you cut through the noise and find the best solutions for your operation, we'll take a closer look at hotel PMS and POS systems, how integrating them can benefit your business and which questions to ask when selecting a system.
Let's dive in!
What is a hotel PMS?
Put simply, a hotel PMS is what a hotel uses to manage reservations, check-ins and check-outs, guest billing and payments. Most property management systems can do much more though. For example, you can use it to store guest preferences and information about your property like your restaurant's opening hours or which rooms are on a high floor and what kind of views they have.
On top of that, a PMS can connect to accounting and revenue management systems to create an overview of revenues, expenses and trends. A modern PMS can also integrate with many other programs such as upselling platforms, guest communication tools and a POS system.
In a nutshell, the PMS is the heart of every hotel's operations.
What is a hotel POS?
A hotel POS or point of sale is where a customer transaction takes place. For hotels, this includes restaurants, bars and lounges, the spa, the gift shop and every other place a guest can spend money during their stay. A POS system is used to process orders, manage tables, and report on your sales data.
Today, POS systems do much more than just ring up a guest's bill. The most comprehensive ones include functions for inventory management, workflow and staff management as well as highly customisable floor plans, menu and event options, making it the PMS's most important ally when managing a hotel.
What's the difference between a hotel POS system and a PMS?
While the PMS is dedicated to handling everything related to managing and selling a hotel's rooms, a POS system does the same for F&B venues and other revenue-generating departments. Today, open APIs have led to a quickly growing plug-and-play marketplace which significantly expands these capabilities. Apart from 'simply' selling rooms and handling restaurant bookings, both PMS and POS systems can now integrate with other applications and play a role in maximising revenue (e.g. via upselling), ensuring smooth guest communication (e.g. via direct messaging or chatbots) or streamlining accounting and HR procedures.
While both systems handle different parts of a hotel's business, they complement each other and create a smooth guest experience, coherent invoices for all hotel services and a complete overview of the hotel's revenues.
Streamline the guest experience through PMS and POS integration
By integrating a hotel's PMS and POS, you open the doors to offering your guests the perfect experience. This setup allows them to use all services without having to pay separately at each one. Instead, everything gets charged to their room and one single invoice is settled at the end of the stay. That makes their time at your property more convenient and can even encourage spending.
Finally, if an error finds its way onto a guest's invoice, it can be corrected easily since the connection between a hotel's services improves communication and staff can quickly find a solution.
When your systems work together, everyone wins
Deliver consistently standout hospitality experience by integrating Lightspeed Restaurant POS and Mews PMS.
Hotel PMS checklist
Not all property management systems are created equal. To help you find the ideal PMS to pair up with your POS system, we've outlined the seven questions you should ask when researching a new solution for your property.
1. How easy is it to use?
The most powerful tech solution will do little good if your staff find it hard to use. Difficult programs reduce efficiency and your team will not use the tool to its full potential. That's a lose-lose situation since your employees will feel frustrated with the program and you are not getting your money's worth from it.
When you are looking for a new tech tool, always keep ease-of-use in mind. Ask the provider how long it takes to set up, how long the onboarding time for new users is and whether they offer free or paid training when you sign up. Today, many tech providers offer 'self-service education', evergreen tutorials and trainings their clients can access for free at any time. Mews University is a good example thereof. Especially in a high-turnover industry like hospitality, this is valuable since it lets you quickly and easily train new staff. Don't forget to ask about this during your discovery call!
Next, find out what current customers are saying by asking colleagues in the industry or checking review sites like Hotel Tech Report. As a final test, get a free trial or at least a demo. Especially in an industry like hospitality where staff turnover is high, you want to make sure new team members can easily catch on and get to work rather than spend days in training for every software you use.
2. Does it allow integrations with other applications?
Using open apps that easily integrate with one another is key to setting up your hotel's tech infrastructure.
True two-way integrations mean that the data produced by one system (say, the room service bill that one of your guests orders) is automatically pushed to another system (that room service bill getting automatically charged to the card on your guest's profile in your PMS) without human intervention.
Integrations are key to offering a frictionless stay for guests while minimising operational complexity for your employees; everyone wins. And you don't have to be a tech wizard to integrate your systems.
The Mews Marketplace helps you easily test and implement new programs that readily integrate.
Without the hassle of invoice or set-up, you can select and implement new tools—applications or your spa, events, facilities, revenue management, distribution, business intelligence and upselling—directly from your PMS dashboard and begin automating operations, saving valuable time and taking the guest experience to new heights. A plug-and-play marketplace is the best way to keep optimising your business.
On the other hand, if a tech solution doesn't have an open API, you could incur significant additional costs when connecting your applications.
3. Is it cloud-based?
Today, many industries are shifting to the cloud and hospitality is no exception. Cloud-based programs have many benefits including improved efficiency, cost-effectiveness, accessibility, flexibility and higher data security.
You can also consider them 'future-proof' because tech providers can easily update their products to accommodate the newest developments or add extra integrations. That happens on the cloud, so you get access to these updates as soon as they are live and don't have to wait for tech support to manually upgrade your system on-site which is often both time- and cost-intensive.
4. Is it customer-centric?
In hospitality, the end goal of implementing a new tech solution is to improve the service and experience you can offer guests. This is true both when guests themselves use an application or when it helps your staff work more efficiently.
Especially when looking for an application to be used by clients (e.g. a chat app or a reservation tool), the guest-facing part must be user-friendly, fun, engaging and mobile-optimised. Using innovative concepts such as online check-in, Apple Wallet or a mobile room key is a great way to create a lasting positive impression and build guest satisfaction and loyalty. In fact, using tech in your business has become so important that AAA, one of the top hotel rating organisations in the United States, has made it part of their evaluation criteria.
Apart from improving the guest experience, a good PMS must also provide great service to the hotel using it. 24/7 localised customer service should be included for free and easily accessible via email, a hotline or a module on the dashboard. Unfortunately, too many PMS providers hide behind impersonal email chains and take longer than they should to respond to and solve their clients' queries. Save yourself this trouble and ask upfront what kind of support you can expect. On top of asking the vendor directly, read online reviews to learn how well current clients feel cared for.
5. Does it use AI?
AI's capabilities are growing every day—take advantage of that for your business! Whether it's for back-of-house applications that help you optimise inventory or guest-facing programs like intelligent communication apps, the possibilities keep getting better and more interesting.
For example, some applications can help you predict demand based on past data, current trends, events and even the weather. Imagine how practical it would be to get a reliable demand forecast for your bar or restaurant based on data points you never even thought to consider.
Other AI programs help streamline guest communications during the booking process and before they arrive at your venue. For instance, chatbots could take restaurant bookings and record preferences, allergies or requests like a birthday cake.
All this to say, AI has some exciting use-cases in the hospitality industry and can improve your guests' experience, so why not give it a try?
6. Is data security guaranteed?
We all remember the data breach scandal at Starwood and its consequences. You don't want to be in that situation because you didn't do your research on data security.
Check the tech tools you're considering carefully, ask the provider questions about how they manage data, who owns it and who is responsible for keeping it safe. Professional product reviews by industry experts are another great place to find information about data security.
On top of learning how the tech company keeps data safe, learn which measures you can take to guarantee maximum data security.
7. How is it priced?
While this one might sound obvious, it's worth mentioning because there can be some pitfalls and unpleasant surprises. Often you won't find one flat fee advertised because the final price depends on the type of package you choose, how many services and add-ons you want and several other variables. When checking and comparing pricing, it's extremely important to understand how your rates will be calculated and which one-off expenses you will have to shoulder.
Things to check for include a one-time set-up fee, hardware you might have to buy (and how many pieces), monthly subscription fees, commissions on sales you generate, maintenance fees, extra costs for integrations with other programs and the contract's cancellation policy.
Most tech providers also offer different packages for large, medium and small businesses. Make your choice carefully, so you don't overspend on functions and services you don't need.
Achieve a frictionless guest experience through streamlined integrations
While it can seem challenging to create your ideal hospitality tech set-up in the jungle this domain has become, taking the time to map it out will have a powerful impact on your business.
To start, a strong POS-PMS duo like Lightspeed and Mews is vital for every hotel offering more than just rooms. Cutting-edge cloud-based solutions which seamlessly integrate and can be perfectly tailored to your business will create a smooth experience guests will cherish, share and want more of.
From improved efficiency, happier staff, raving fans and an increased bottom line, a powerful POS-PMS pair can only help you win.