So you're passionate about coffee, people and pastries. Opening a cafe may be a lifelong dream, or simply an unmissable business opportunity; either way, you're going to have your work cut out.

Of course, that shouldn't put you off. Opening and running a successful cafe is one of the most rewarding things you can do.

But expectation is the route of all heartache, and if you dive into opening a cafe without knowing what to expect you could end up with some nasty surprises along the way,

To avoid that, we've put together a step-by-step guide to help you through the process. Let's explore how to open a coffee shop.

1. Find the right location
2. Get properly licensed
3. Insure your business
4. Invest in staff
5.Consider your food costs
6. Implement technology
7. Market your cafe

1. Find the right location
Foot traffic is a key factor in getting customers through your cafe's doors. The only way to benefit from foot traffic is to locate your cafe in a place where there's a lot of it.

Think about the kind of foot traffic you want. Do you want to serve busy commuters and office workers during weekday morning and lunch rushes? Or weekend shoppers in need of a caffeine boost?
In other words, who are your target customers?

Foot traffic won't translate into sales unless your cafe appeals to the people passing it. This is why it's important to define your target customer early on.

The customers you target will greatly influence how you run your coffee shop. For example, if you target office workers, and locate your cafe in a business district your busiest periods will be the early morning and lunchtime hours.

Your cafe would also be quieter on weekends than it would be in, say, a residential or shopping district. So you may have to pull customers in with deals and promotions to grow your weekend trade.

If you're targeting a broader customer demographic, you may want to try opening in a location with a good balance between residential, commercial and office spaces – just to cover all your bases.

Scope out your competition
When choosing a location for your coffee, it's also crucial to know who you're up against.

Research the local business landscape. Are they serving similar products to yours? If so, think about how you can differentiate yourself. Research average prices in the area, and consider that in your menu engineering.

But don't only look to competitors. What local businesses, institutions and facilities could actually complement your business and further drive foot traffic?

For example, if you open near a university, you may be more likely to attract students looking for somewhere to work. If you open near a gym, you may attract customers looking for a pick me up before a workout.
Don't forget about rent

Rent is one of the main business expenses of opening a cafe, so you always should weigh up the cost of rent with advantages of a good location.

High rent prices will be reflected in your menu prices. So it's important that the cost of rent doesn't leave your product with a mark-up that your target customer simply can't afford.

Shop around for commercial landlords and find one that's willing to negotiate a lease and unlikely to raise rents disportionately. Also make sure you're on the same page regarding responsibility for building maintenance and repairs.

Also consider the size of your premises, and how that can affect the rent price. For example, Caffe Napoli were able to reduce their rent costs by minimising their space.

"Since the rent in London is very high, and we're a quick service espresso bar serving office workers and hospitality staff—we didn't need much space" says CEO and Founder Fabio Compagnoni.

"So we kept our costs down by opting for a very small premises – an old cab station with just one window facing the pavement. The rent was very low compared to a big shop and it's easier to manage a small location with less people. Rent shouldn't be more than 15% of your total income."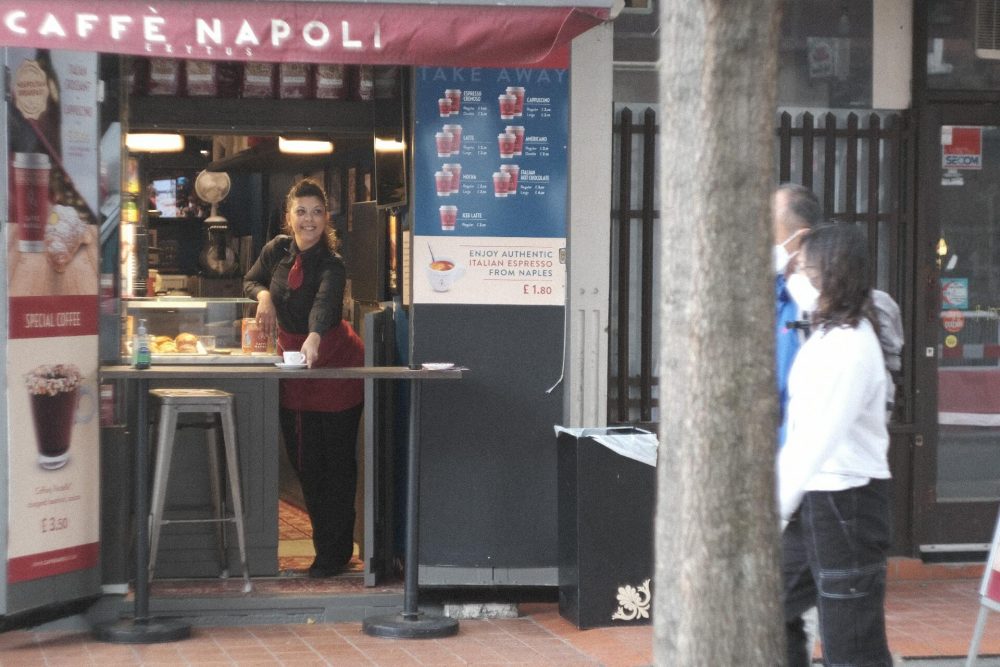 2. Get properly licensed

As with any business, there are certainly licenses you need before you're up and running. Be sure not to skip this step, starting out unlicensed could lead to some hefty penalties.
Food business registration
Before starting a coffee shop you will need to make sure that you are registered as a limited company with Companies House.

Once registered as a limited company, you'll then have to register as a food business at your local council. Do this within 28 day before opening your cafe.

Commercial buildings are classified based on their use. If your premises wasn't previously used as a cafe, it may be under a different classification. In which case you'll need additional planning permission from your local council to change its classification.

Pavement license

If you plan to have outdoor seating at your cafe (and it would be a great added bonus if you did), you will also need to secure a pavement license from your local council.
A pavement license allows you to legally place removable furniture in the space outside your coffee shop, as long as you're not obstructing any public thoroughfares by doing so.

The fees for these licenses is capped at £100 and is valid for one year after which it will need to be renewed.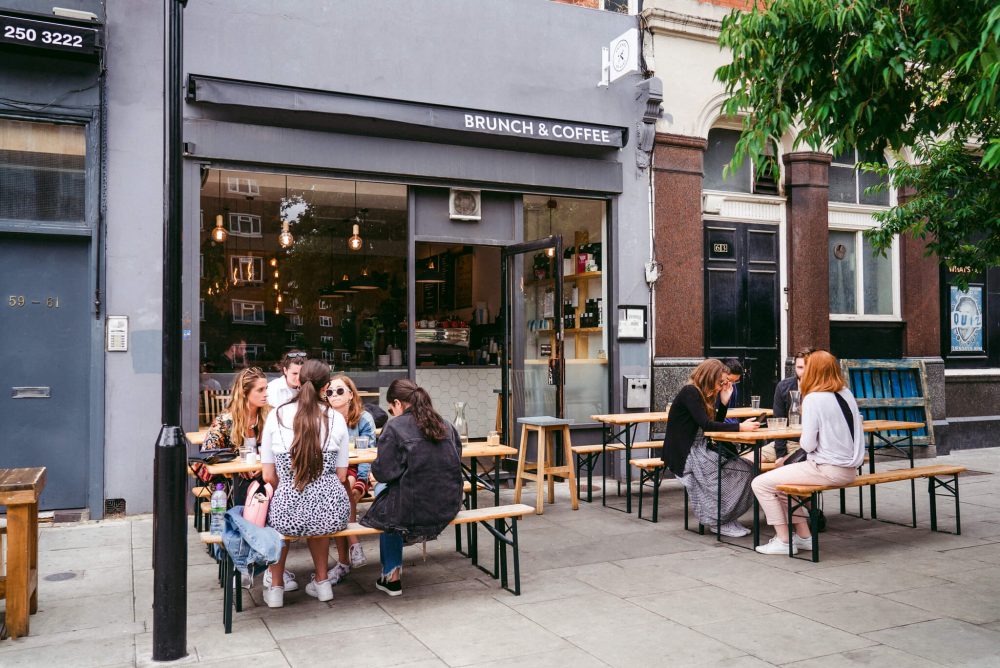 3. Insure your business
As with opening any kind of business, it's best to expect the unexpected. Accidents happen, and it's wise (or even compulsory) to have the right insurance to cover yourself when they do.

Employee liability Insurance
There are certain legal obligations for businesses in the UK. If you plan to have employees, you're legally required to purchase Employer's Liability Insurance.

It helps cover compensation costs in the event that an employee becomes sick or injured at work.
Public liability insurance

Public liability insurance covers claims against your cafe for damage to a customer's possessions or accidental injury to a customer caused by you or an employee.

It's not a legal requirement for starting a business, but nonetheless good to have if something should happen to a customer on your premises.
4. Invest in staff

Your employees are important to the success of your restaurant. If they're well-trained, they can build up your reputation by making sure your products are prepared properly every time.

If they're happy, that's going to be reflected in their customer service. So make sure your cafe staff get a fair deal. Unhappy staff can damage your business.

When starting out, you'll want to consider whether you want to invest in training less experienced staff, or paying slightly more for seasoned baristas.

With the current labour shortage, however, you may not be able to have the luxury to choose. The best thing you can do is to invest in staff training so that your staff not only feel valued, but develop skills which translate into great customer experience and repeat business.

Do not forget however to keep an eye on labour costs, poor staff scheduling or hiring the wrong staff can really cost you in the long run.
Optimising labour through technology

Caffe Napoli use Lightspeed ePOS's staff performance reports to track staff performance and incentive its employees.

Access an overview of turnover rate, number of receipts and average transaction value per employee across all locations.

"I use that data to create goals for my employees," says Fabio. "For example, I can take the average transaction value across all my employees and locations, then give them a bonus if they increase it by 10% in a week. It's great for motivating my baristas. I can also track turnover by employee to see which staff are bringing in the most revenue."
With clear oversight on employee performance, Fabio can work to reduce his labour costs while improving employee satisfaction in the process.
Discover the tech your cafe needs
Start your digital transformation and ignite your business's potential today. Download our guide to find out how.
5. Consider your food costs
As with any food business, you're going to have inherent expenses related to the products you sell. Factor in food costs to your business expenses.

The main food costs for coffee shops are of course coffee but adding food items like pastries, sandwiches or breakfast bowls are also common features. "Selling products like pastries helps us boost our average basket size" says Fabio from Caffe Napoli.

When you're just starting out, however, it can be hard to determine which products are going to sell. This is where getting an idea of what your local competitors are selling comes in handy – how can you sell something they're not or rather how can you improve on their offering?

With time, you can use a cafe ePOS to access reports on what products are selling and which are not, and use that to bring down your food costs while increasing your profit margins.
6. Implement technology
Opening a cafe can be a stressful process, so it's important to invest in technology that makes your life easier. Obviously a fundamental part of any transactional business is a cash register, but nowadays you can go a step further than simply ringing up orders.
Electronic point of sale
An electronic point of sale (or ePOS) is a digital platform, often in the cloud, from which you can run several aspects of your business from a single screen.

A good ePOS will let you take orders from anywhere in your cafe premise through the use of an iPad and a WiFi connection. You can send orders directly to your kitchen or barista station for quick and seamless communication.

You should also look for an ePOS which integrates payments software to provide customers a painless payments experience while saving transaction data for clearer reporting and faster end of day reconciliation.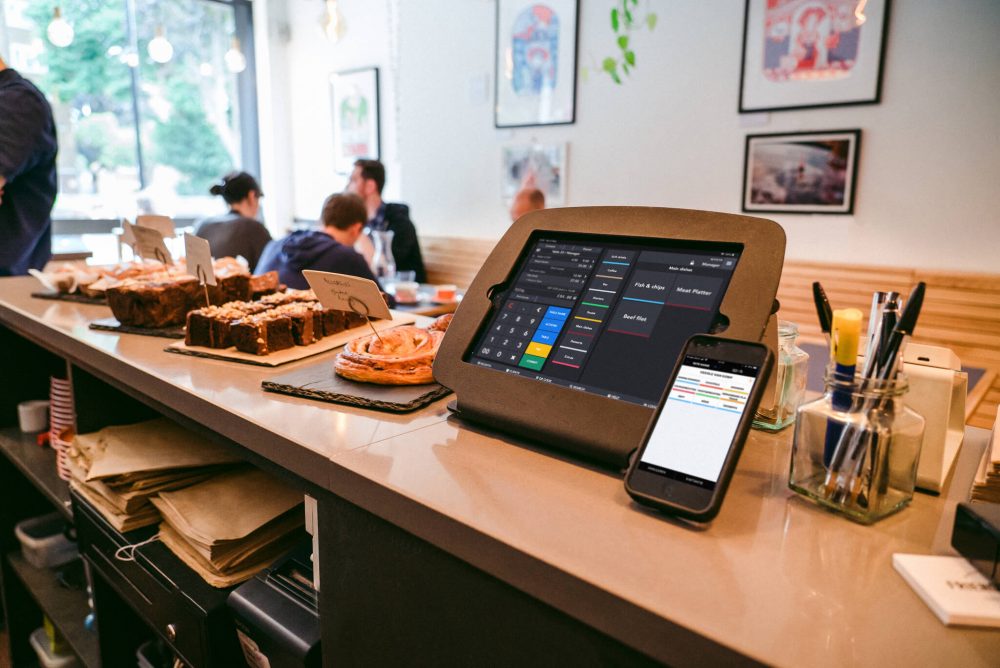 In fact, with a modern ePOS system, you make all kinds of data work for you. Get detailed reports on your best selling products and use that data to better manage inventory and create discounts and promotions that increase basket size and profit margins.


Get the best cafe ePOS out there
Lightspeed ePOS has all the tools you need to get your business off on the right foot
Kitchen display screens
Many cafe's use Kitchen Display Screens (KDS) to streamline their workflow and cut down on paper use.

It can be a seriously effective tool, for example Bristol-based cafe Friska were able to increase service efficiency by 12% during peak hours by incorporating Lightspeed integrated kitchen display screens into their technology stack.

North London coffee roasters Campbell and Syme also used a Kitchen Display Screen to maintain great service without compromising on quality.

"Specialty coffee takes a bit more time to really get right, and that can affect the time it takes to serve each customer during busy moments" says manager Joseph Graham.

"A KDS helps us get orders out as quickly as possible, so that people don't leave because they're waiting too long."
Mobile order and pay
The 2020 pandemic cemented contactless table service as a common feature in many cafes. Adopting mobile ordering technology could greatly improve the customer experience while also keeping them safe.

Mobile order and pay tools like Lightspeed Order Anywhere give customers access to a pub or restaurant's menu from their phones without the need to install any apps.

They give customers the flexibility of contactless ordering either for takeaway, or for dining in. Use the product in one of two ways:
For dining in, operator can print a QR code for each table in the floor plan, then place it on said tables for customers to scan, order, and pay when they sit down.

For takeaway, you can add the order anywhere platform as a web extension on your website, from which customers can browse your menu, select their pick up times, checkout and pay.
Lightspeed Order Anywhere also integrates seamlessly with your existing Lightspeed Restaurant ePOS.

This boosts the efficiency of service by eliminating the need for waitstaff to walk to and from tables to take orders. It also reduces the risk of error because customers punch in orders themselves, instead of staff having to do it.
7. Market your cafe

Once you've dealt with the technical stuff, start thinking about how you're going to let people know about your new coffee shop.

There are several channels to market your business, but since marketing usually requires time and/or money it's best to be selective about which one to leverage.
Social media
Social media is the quickest and easiest way to market your cafe. It doesn't cost anything to start a page, and gives you instant access to literally thousands of potential customers.

Select which social channels to market based on your target customer. Audiences vary by channel, so make sure you focus your efforts in the right place.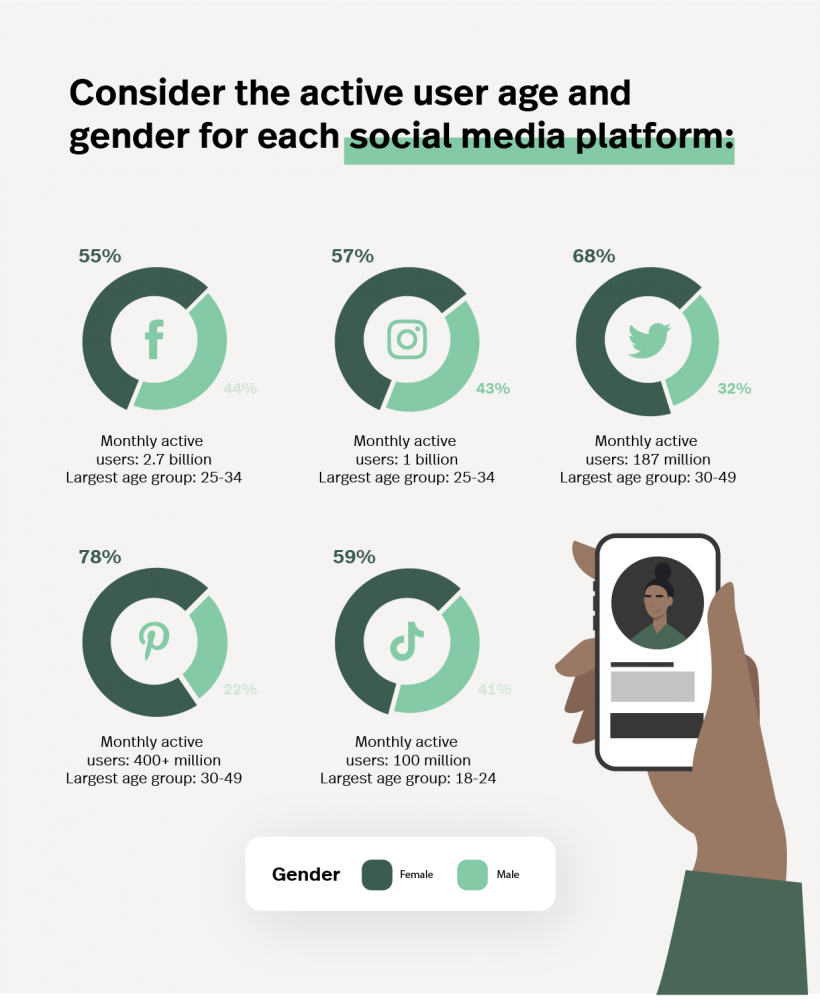 Develop a social media plan to ensure your marketing aligns with your overall business goals. Use the SMART framework (specific, measurable, attainable, relevant and timely) to outline content and goals you wish to reach.

An example of a cafe that makes the most of social media to forward their business goals in Farm Girl.

They incorporate social media directly into their business strategy, making sure their menu items are truly instagrammable, and using timely competitions in collaboration with other businesses to grow engagement that translates into sales.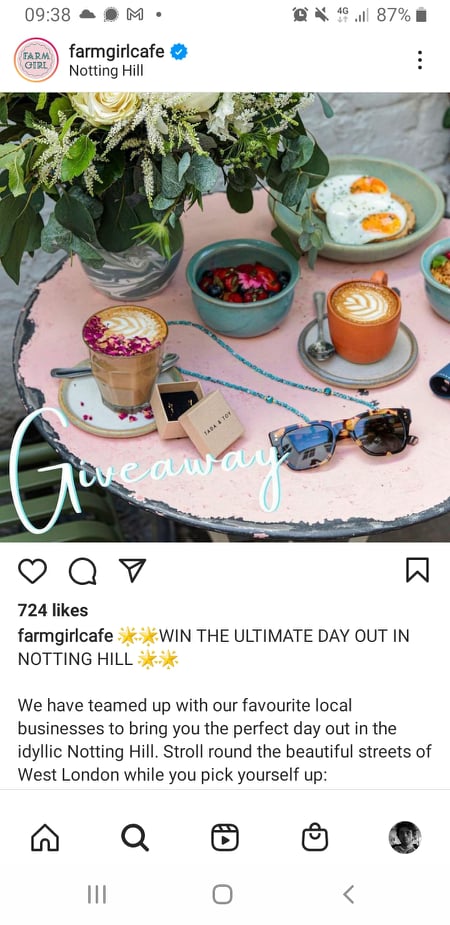 Flyering
While focussing on online marketing channels is important, the online environment can often feel saturated as countless companies and businesses compete for eyeballs.

That's why more traditional forms of promotion may add more value than you might think. While social media may be a great tool for reaching a broad audience, flyering is an effective way to put you front of mind for local customers.

PR
PR is one of the most effective ways to market your business. People love a good story, so make sure there's one behind your brand. Whether it's about your supply chain, your founders or what your product represents, a coherent story piques people's interest and sticks in their mind.

Once you have a story, think about how you can tell it to your target audience. What kind of media do they consume? What outlets are you likely to be able to reach them in?

Once you've decided who and where to target your PR, start building relationships with journalists and bloggers who will be able to distribute your cafe's story

But again, a good story here is vital, and bloggers or a journalist need a story to grab people's attention, so think about how you can weave a story from your cafe brand.

Finally, don't leave it until the last minute. The process of planning a story for magazine or online editorials can be lengthy, so leave enough time for the process to unfold.
Email marketing
Email marketing may not be the most effective strategy when starting out, since people are unlikely to open an email about a coffee shop they don't yet know about. Plus it would be hard in the early stages to put together a comprehensive email list.
This strategy is better suited to when you're more settled in, and you've started building a solid customer base.

When you have this, you can find a method of grabbing customer data like an email address, then target people who have already been to your caffe with deals, newsletters and promotions.

Caffe Napoli use Wifi to grab customer data. "We offer free Wi-fi where customers simply need to give their names and email to access it." says CEO and founder Fabio Compagnoni. "We can use that data to retarget them with promotions based on location."
Loyalty
Another effective marketing strategy are loyalty programmes, which can not only keep your brand front of mind of customers but is effective in driving up customer retention and repeat business.

Friska drastically improved customer retention and engagement by launching a white-labeled app, made possible by an integration between Lightspeed and 5Loyalty.
Some sites saw as much 56% increase in revenue after the introduction of app and other tech.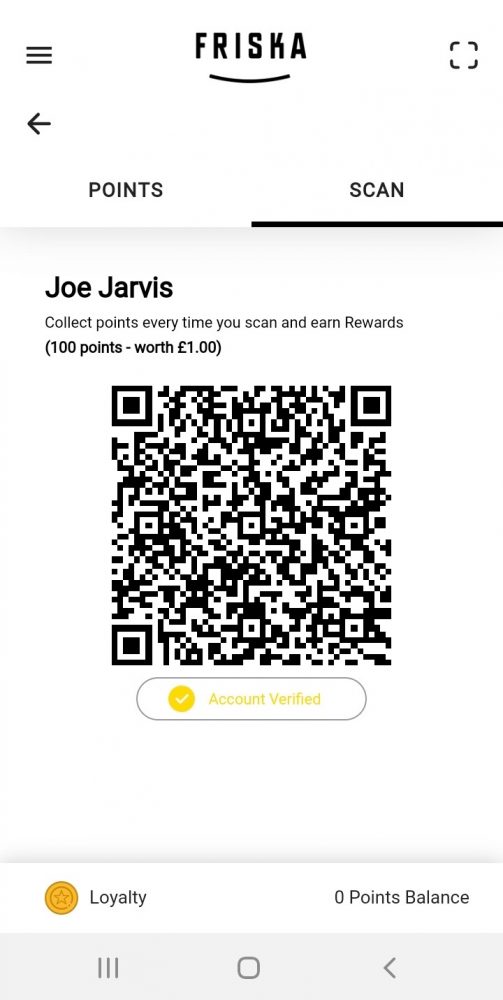 They cleverly incentivised adoption of the app by offering a free lunch for every download, and motivated users to consistently engage with the app through the combination of push notifications, personalised offers and most importantly, a loyalty programme:
When a customer places an order they scan a QR code on their Friska app using Lightspeed's QR code scanning capabilities.

The QR code contains information about the customer, like the number of loyalty points they've earned from previous purchases.

Lightspeed then shares their transaction data with 5Loyalty, so users can redeem loyalty points they've earned from a purchase.
Set out on the right track
Opening a cafe is never an easy process. There are many steps to take, hoops to jump through and choices to make. At the end of the road, you could end up with something truly original.

But like they say, it's the journey, not the destination.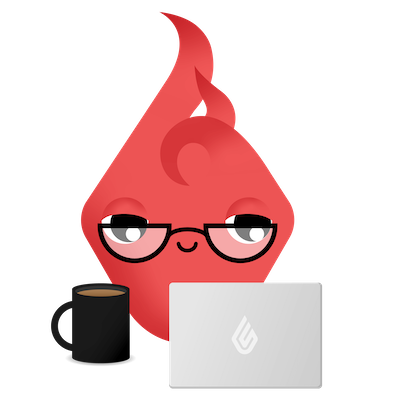 News you care about. Tips you can use.
Everything your business needs to grow, delivered straight to your inbox.