So you're thinking about opening a bar.

Before you get started, you'll have to take some steps to set you off on the right foot. Starting a business is never a quick and easy process, but taking the right steps at the right time will make the process a lot smoother.

Before you know it, you'll be mixing cocktails, pulling pints and having banter with the locals.

But first the boring (but very important) stuff. In this post, we'll cover the 7 steps you need to take to open a bar.

1. Write a solid business plan
2. Define a business structure
3. Obtain the right licenses
4. Choose a location
5. Nail your inventory management
6. Hire an all-star bar staff
7. Get equipped


Get the ultimate bar and pub guide
Learn how to drive your restaurant forward with powerful tech.
1. Write a solid business plan
It's like our teachers always used to say: failure to plan is planning to fail. That's why we make business plans.

A bar is a business, just like any other. To attract investors or obtain funding, you'll need to convince stakeholders that your business holds water and you're serious about it.
This should be at least a one page document outlining your goals, and strategies for achieving them. Your business plan is the springboard from which to launch your business, so don't skip this step.
Concept
We're often spoiled for choice of places to enjoy a beer or cocktail. In such a crowded environment, you may need a concept for your bar: a theme, approach or philosophy that sets it apart from the competition.

There's no need to overthink it tough.

London's Morty and Bob's achieved success through a simple combination of Bloody Marys and grilled cheese sandwiches—they focused on something they did well, and made that their trademark.

Think about what you can do well? Could you use it to establish a brand, and set yourself apart from the competition?
Current opportunity
Why is now the time to open a bar?

Maybe tourism is making its way back to your town or city. Perhaps the pandemic left a gap for places to grab a pint or a cocktail.
Whatever it is, research what opportunities lie out there, and how you can make the most of them.
Key success factors
Once you've outlined your opportunities it's time to consider what success will look like, and how to measure it.
Maybe you want to be profitable by a specified time, or in a position to open a second location two years from now.
Setting out key success factors from the get-go can help you steer your bar in the right direction from day one.
Vision statement
A vision statement should encapsulate all of the above into a clear and concise roadmap for where you want your bar to go.
How will your goals and ethos guide your actions now and into the future? What core competencies does your bar need to be successful in the long term?
A vision statement should answer these questions, and help develop a long term vision that the business keeps on track.
2. Define a business structure
Your bar's legal structure determines what taxes it pays and how it's seen in the eyes of the law.
The legal form you choose depends on how your bar business is structured, what you want it to do, what investments you want to make and whether you want to collaborate with other enterprises. There are two basic forms to consider when setting up a small business in the UK.
Sole trader
If you're going it alone, you can register as a sole trader. In this form, you own and control your business's assets, and have personal liability over the company's debts and obligations.

There's little regulation from HMRC, but the sole traders must do their own income tax returns on a yearly basis. Moreover, the liability of your business rests entirely on your shoulders since there's no separation between your private and business assets.
Private limited company
Another option is to start a private limited company. Through this arrangement business owners have limited liability: your losses can only amount to what you or your shareholders have invested in the company. Your private assets are not at risk.

With a PLC, you pay corporate tax, and will have to do a little more paperwork to register with Companies House.
3. Obtain the right licenses
To operate legally, your bar needs to have the right licenses. Obtaining them is usually one of the easier and less expensive parts of opening a bar.
Alcohol license
Unsurprisingly, an alcohol license is one of the main legal requirements for opening a bar in the UK.
But here's the thing: there's no single alcohol license that UK business owners can hold.

In fact, you need two licences, one for your business premises (premises license) and one for you or your bar manager (personal license).

Once you have both these licenses, you're then also legally obliged to buy alcohol from suppliers approved by HMRC.
Premises License
A premises license is what authorises your business to buy and sell alcohol. It differs from a personal license in that no individual can hold it, only physical locations.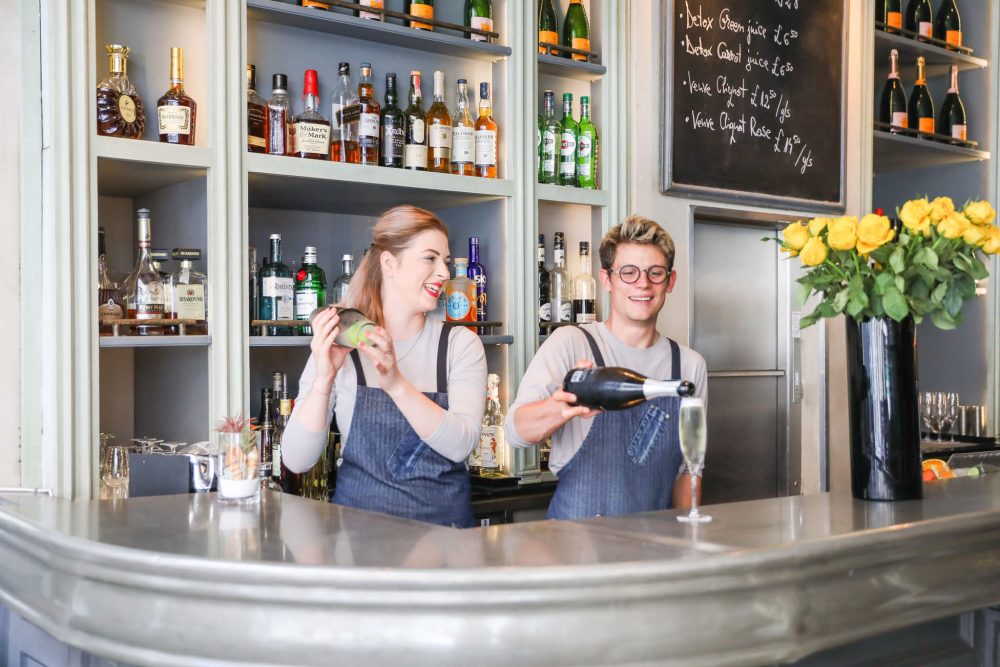 However, that location doesn't need to be fixed. If you're a pop-up, food truck or a party boat, for example, you will also need a premises license.
A premises license isn't just for alcohol either. You also need one if you plan to have evening entertainment in your restaurant, or to serve food any time between 11pm and 5am.
Personal License
A premises license alone is not enough to be able to sell alcohol at your restaurant. In conjunction with a premises license, you also need a personal license.

This allows certain individuals to serve alcohol on a licensed premises. When you hold it, you become designated premises supervisor.
Under your supervision, non-licensed individuals can sell alcohol on a licensed premises, provided they're over-eighteen (and know how to make a good margarita).
How much is an alcohol license?
A personal license costs just £37, which you pay when you apply for the qualification. To pass you will also need to complete a DBS check which will cost you £25.
The cost of a premises license varies depending on the rateable value of your commercial property. Either way, you will have to pay both an application fee and an annual charge. The higher the rateable value of your restaurant premise, the higher the fees for an alcohol license will be.
See below a table of costs depending on rateable income: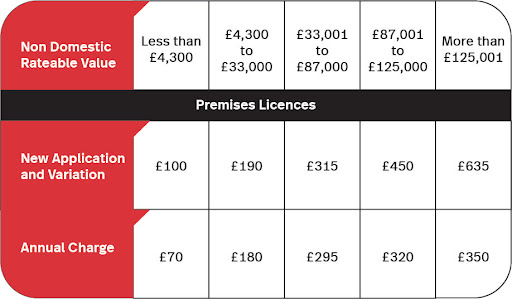 Pavement License
Some local governments will require you to have a pavement license to place tables, chairs and other furniture on the pavement.

Rules, restrictions and fees vary region to region.

Certain restrictions apply on how big the furniture can be. You will also have to leave an amount of pavement space free for pedestrian traffic and clearly mark the borders of your outdoor seating area.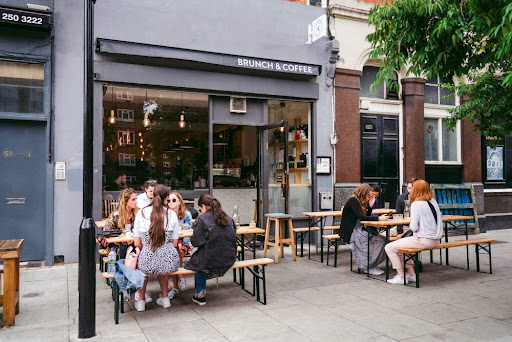 When applying you'll need to supply a site plan and a public liability insurance certificate, and may be subject to fines if you fail to meet the requirement or fail to pay the license fee. The cost of a pavement license will vary by location, but it is capped at £100.
4. Choose a location
Your bar's location is paramount to its success. It could determine whether your new venue will succeed or fail—so don't approach it lightly.
Many variables contribute to landing upon a lucrative bar location. Much will depend on existing brand awareness, target audience and local factors.
Consider planning regulations
Commercial buildings are classified based on their use. If your premises wasn't previously used as a hospitality venue, it may be under a different classification.
In which case you'll need additional planning permission from your local council to change its classification.
Bars are classed as A3 buildings – if the building you're expanding into is of a different class, you'll need planning permission in order to run a hospitality business from that building.
Consider your target customers
Think back to your business plan—how did you define your target customer? Where they students, young professionals, retirees?

Defining your demographics can help inform your decision about where to locate your bar.
Consider too where your target audience intersects. London wine bar and restaurant Humble Grape carefully picked their London locations so they could take full advantage of both weekday office trade and weekend trade – both of which were often the same people.
"Many of our locations share customers," says Kevin Coatzee, Head of People and Operations. "People who visit our Fleet Street location after work will come to Battersea or Islington on the weekend. We want to ensure they get something different, that it's not just the same everywhere."
Take foot or car traffic into account
While the location isn't everything (food, drinks and service obviously play a role too), choosing a restaurant located in a high foot traffic area could have a big impact on how your new location performs.
It's simple: the more people pass by your bar, the greater your chances of attracting newcomers.
Scope out the competition
Let's say you've found the perfect location: minimal start-ups costs, a local demographic that fits your ideal buyer persona, foot traffic for days. But wait—there's a competitor on the same street with a near-identical offering to yours.
Realising this too late could set you back, so get an idea of the competitor landscape in the area you've set your sights on.
That said, opening near a competitor isn't the end of the world. In fact, it's just business.
Businesses often go for optimal locations where they can serve the most amount of customers. That's why competing businesses open right next door to each other.
In a highly desirable business location, it's unavoidable that competitors will have already beat you to it or will follow shortly after.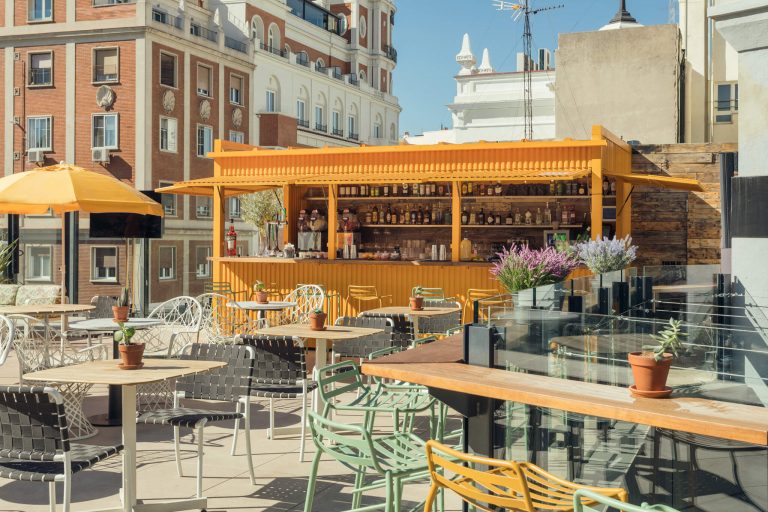 You can't avoid competition outright. See it instead as an opportunity to set your business apart.
If you do have competitors in your desired neighbourhood, put together a strategy as to how you can keep your share of the local clientele
5. Nail your inventory management
Your bar won't go very far if it doesn't have inventory. Stock control is a key aspect of bar management and you'd be wise to consolidate a system before opening a bar.
When you're able to accurately track your stock, you can better protect your profit margins by avoiding overstocking and ensure that you're making maximum revenue from the inventory you have.
Forget spreadsheets, modern bar ePOS systems make for a much faster and more accurate inventory management software.

They allow bar managers to upload and track inventory from an easy-to-navigate online back office where you can monitor liquor sales by the millimeter.
Accurately track stock levels
Let's say, for example, that the most popular cocktail at your bar is a Caipirinha. You can't make a Caipirinha without Cachaça, right?

You need a way to make sure you don't run out of this vital ingredient when you need it most.
Here's how ePOS inventory management can stop that from happening.
After uploading fifteen units (700ml bottles) of Cachaca to your ePOS's stock management platform, you create the menu item Caipirinha. You list its constituent ingredients into sub-units, and link the sub-units to their stock item (the fifteen units of Cachaca).

So for one Caipirinha, you use one sub-unit of Cachaca – which totals 50ml. Your current stock levels you make 210 Caipirinhas. That should be enough for the coming weekend.

Since this sub-unit is linked to the unit item in inventory, 50ml is subtracted from the total volume of Cachaca in stock each time you sell a Caipirinha.
Get notified when low on stock
So you've linked your menu items to their ingredients in your inventory. But how can you stay up to date with low inventory levels?
An advanced bar ePOS system will allow you to add certain 'rules' to inventory items, which trigger notification emails when a stock item goes below a predefined quantity.

These rules can be configured in the ePOS back office. Here's how you do it in Lightspeed Restaurant ePOS:
Go back to your fifteen units of Cachaca in the back office. How low can it go before you need to reorder? You might decide it's best to set a rule for when you only have enough to last you one more business day (around 5 units).

Before creating a rule, you can toggle whether or not the rule applies to all stock or not. In this case, we only select Cachaca.

Now you've selected the unit item, you enter the number of units below which the rule will be applied for the chosen product—5 units.

Now when the number of bottles reaches below five, you'll be notified and can reorder promptly!
Start your business off on the right foot
Want to simplify, scale and ignite your potential? Find out what Lightspeed POS can do for you.
How Da Terra manage their wine list with Lightspeed
Inventory management features from Lightspeed ePOS help Da Terra's staff track and manage wine usage for their pairing menu to the millimetre. They know exactly how much of each wine is used for each service and when they need to top up the cellar.
"Inventory management is straightforward with Lightspeed. We can see where we stand with what we've got and use inventory reports to see if we're going through too much, or not enough" says Charlie Lee, Da Terra's General Manager.
6. Hire an all-star bar staff
Before opening a bar, make sure you have people to keep it going. That should at least include bar staff—but consider other hospitality staff like hiring waiters and chefs if you want to serve food or deliver high quality customer service beyond the bar.
Bar manager/bartender
A bar manager is responsible for the running of your bar. That includes responsibilities such as:
Controlling stock levels on both alcoholic and non-alcoholic beverages

Negotiating supplier contracts

Holding the appropriate licenses

Dealing with drunken guests

Supervising other bartenders
What makes good bar staff?
Bar staffs' skill set sets them apart from other front of house staff. A bartender must not only possess basic bar skills (slicing limes, pulling pints etc.), they must also have a detailed knowledge of the composition of different long and short drinks.
An experienced bar manager has an extensive repertoire of handy bar tricks, and impart from onto the colleagues they supervise.
The fact that bar staffs' work is done in the gaze of the customer means they should always exude an image of professionalism and work with flair and dynamism. They should also possess some knowledge of basic bar management.
Barback
A barback's role is to ensure that the bartender has everything they need during service to keep everything running smoothly: clean glasses, enough garnishes, liquor, beer and spirits, ice cubes, etc.

Similarly to bussers (see below), they're also responsible for keeping the service area tidy (cleaning up spills and broken glasses) and running to the walk-in to restock whatever's running low.
What makes a good barback?
Suzannah Gerber, food and beverage industry consultant and owner of Haven Foods, adds that barbacks are a crucial part of a high-volume team, and they absolutely possess different skills than other service members.
"Barbacks need to keep an on inventory levels at all times during service and be aware of the movement and flow of orders and flight path of the bartender," she says. "They also need to be strong enough to carry heavy items like kegs and be able to repair clogged taps or ice machines at a moment's notice. A jack-of-all-trades barback can make huge differences in a bar's service and flow".
Busser
Bussers are the unsung heroes of any hospitality business. Their role is often seen as minor. Like any bar staff, however, they play a part that the whole operation would fall apart without.
Bussers are largely responsible for clearing glasses or plates from a customer's tables when they're finished, bringing them to the back of the house to be cleaned. It is perhaps the least glamorous of all other bar roles, but hardly the least important.
What makes a good busser?
A good busser is attentive. They don't take customers' glasses or plates away until everyone is finished. That requires a balance which sets them up to be great waiters, which they most often go on to become.
Despite their somewhat menial positions, bussers should be well presented and have enough knowledge of the ins and outs of the establishments to answer any basic questions customers may have.
7.
Get equipped
Before you open a bar, you need to make sure you're well equipped. Plan ahead for this, realising you're short on equipment that you didn't budget for can really set you back.
Here's some equipment you won't want to forget.

Cocktail and bartending equipment
Glasses—this is really your bread and butter. Think tumblers, Collins glasses pint glasses, shot glasses, Martini glasses, brandy snifters et cetera.
Bartending tools and accessories—all the things your bartender needs to succeed. Jiggers for measuring, shakers for mixing, citrus juicers for juicing and muddlers for, well, muddling. Also consider things like straws and stirrers, bar mats, chopping boards, bottle openers; the less glamourous but absolutely necessary stuff.
Beverages and beverage dispensing bar equipment
Your bar equipment list should also include a good selection of spirits, as well as liqueurs and mixers for cocktails.
Alcoholic Beverages

—this obviously includes your usual suspects: Vodka, Gin, Tequila, Whiskey, Bourbo, Rum.

Basic liqueurs

—Think Amaretto, Coffee Liqueur, Dry and sweet vermouth, Irish cream liqueur, Orange liqueur.

Non-alcoholic mixers for mixed drinks

—these are all of other ingredients you use to spice or sweeten up your cocktails. Think lemon and lime juice, bitters, gomme syrup, grenadine, milk and cream.

Essentials soda

—Tonic Water, Ginger Ale, Cola and Diet Cola.

Fruit garnishes

—Lemons, limes, oranges, maraschino cherries et cetera.
Bar furniture and other equipment
Coolers and refrigeration

—Kegerators, Beer coolers, Wine coolers, Additional cooler for garnishes

Additional equipment

—Speed rails, liquor dispensers, floor mats, ice wells, ice crusher, ice maker, blenders, waitress stalls, glass racks/holders

Food and kitchen supplies

—Grills, Fryers, Flat-top griddles, Plates, Cutlery, and whatever else lets your staff execute your menu efficiently.
Start strong
We hope you found this post useful, and that you're one step closer to realising your dream and igniting your potential. Just remember that you're not alone, there are always solutions out there just waiting to drive you forward.

Want to know more? Talk to one of our experts.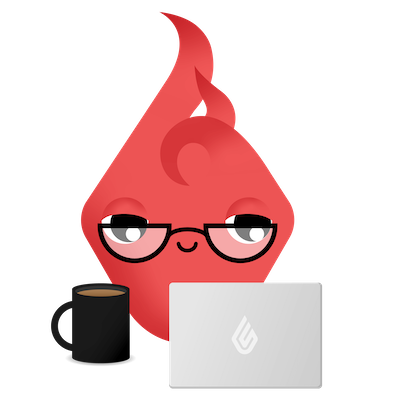 News you care about. Tips you can use.
Everything your business needs to grow, delivered straight to your inbox.